Over, 7,500 Hull men died in the First World War. Over 1,200 of these were sailors working with the fishing fleet, or serving with the Merchantile Marine, the Royal Navy and the Royal Navy Reserve. They carried out vital war work, bringing in supplies, transporting troops and minesweeping the seas
There were nearly another 1,500 men who were born in Hull, but who lived elsewhere. They died fighting for Australia, Canada, New Zealand and America. There are many others, who enlisted in Hull or who were associated with the City, but are not usually remembered on Hull war memorials. As Hull had four large hospitals and was the port of entry for repatriated prisoner of wars, servicemen from all over the world are buried in Hull. The Kingston Upon Hull Memorial aims to remember all those with a Hull connection who died in the First World War.
There are over a hundred families on the Hull Memorial that lost two or more of their family. Sometimes fathers, sons and brothers were lost on the same day. Some families lost three sons, other Hull families lost four sons, including all their children in the First World War. At least one in six Hull families lost a direct relative. Many others would lose close friends, work colleagues or others known to them. Each death was irreplaceable and an individual tragedy for someone.
Unfortunately, not all deaths were recorded in official casualty figures, particularly if soldiers died of sickness, accidents or were discharged home with wounds, of illness. By 1924 the Ministry of Pensions reported that there were 20,000 war wounded living in Hull. Although they survived the war, they are rarely recorded on war memorials. What follows here are snippets of some of those people who died, whose deaths were reported in the local newspapers.
The War Afloat - Hull's War at Sea
World War One often conjures up images of soldiers in trenches going 'over the top'. What is less remembered is the vital contribution from Britain's Navy, Merchant Seamen and fishermen. Every day, in all weathers, these services patrolled the seas, engaged enemy submarines and swept the sea lanes of mines.
Through every day of the First World War, these sailors were on the front line supplying Britain with vital food and war materials, and restricting German supplies. At the beginning of the war, the Germans started laying mines in the North Sea to prevent food supplies reaching British ports. As the war progressed, a new danger came from German submarines. To combat this the Admiralty requestioned many of the Hull and Grimsby trawlers, for mine sweeping and anti-submarine patrols. They were used to control the seaward approaches to major harbours. No one knew these waters better than local fishermen, and the trawler was the ship these fishermen understood and could operate effectively without further instruction. The larger and newer trawlers and whalers were converted for anti submarine work and the older and smaller trawlers were converted to minesweepers. New trawler minesweepers were also built by Cook, Welton and Gemmel Ltd of Beverley, and in total, Hull and the Humber supplied 880 vessels and 9,000 men for this work.
Hull's War at Sea
Due to Hull's coastal location, many Hull men joined the Navy in all its forms. Hull men served throughout the world, in the Royal Navy, Royal Marines, Royal Naval Reserve, Merchant Service and the Hull Fishing Feet. 14,000 merchant seamen were to die in the war, 4,000 of these sailors died in just 3 months during 1917, when the German U Boat attacks peaked.
As a maritime City, with a long tradition of seafaring, Hull played an important role in Britain's sea war. It provided large numbers of ships and crews for all the Naval Services. The Humber area, including Hull, supplied over 880 vessels & 9,000 men from the fishing trade. These patrolled the North Sea, brought in vital food supplies and swept the sea lanes of enemy mines and other hazards to trade. They collected sophisticated German Seamines and hauled these back to port, so that British intelligence could learn improvements. They would also collect floating topedoes for scrap. Life at sea could be full of perils and dangers: submarines, mines, ice, storms, blizzards, hurricanes, ice-bergs, frost, fog, collisions, stranded ashore, wrecked on rocks, and, most of all, fatigue from the endless work of catching fish in dangerous conditions. Nearly, 1,200 Hull sailors died during the First World war. Many others were wounded, survived sinkings, and were emotionally scarred by their war time experiences.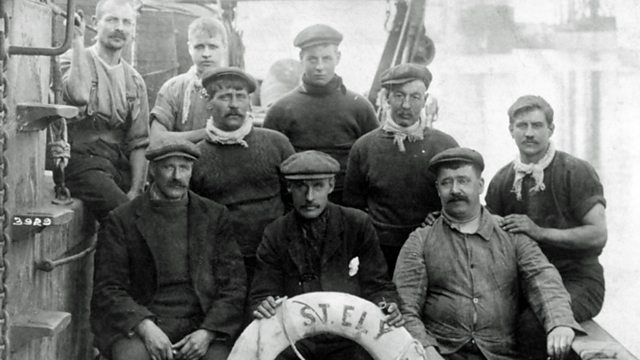 Losses along the Humber
In total, 670 fishing vessels, were lost from the Humberside region, of which 214 were minesweepers. Hull lost 129, of these ships, including 61 mineweepers. 'Spurn' Point at the mouth of the Humber is surrounded by 370 wrecks lost in the First World war. Like the 'Pals' battalions at the front, the loss of a ship's crew could have a similar, sudden impact on the tight knit sea communities at home. On average half the crew of a minesweeper were lost when it was sunk. Sometimes the ship casualties were worse, including the loss of the entire crews, and included old men and grandfathers, who had vital sea experience, as well as younger spare hands and teenage cabin crew, who were required to carry out the exhaustive duties of running a ship. For example, the steam trawler 'Egret', which was sunk, while on patrol, without warning, on 1st June 1918, lost all eleven crew, including the Master, aged between 21 and 54 years old. Ten of these men were from the Hessle Road area, killed on the same day, while protecting the Humber. Their details are below:
CREW LOST ON EGRET (H21), enemy action 2 miles E. x N. Humber Lt Vl, 1st June, 1918.
CROWE, E (41), 53 Glasgow street, Hull. Cook
FISHER, George (54), 3 Laura-grove, Tyne street, Hull. 2nd/Hand
FRANCIS, Septimus (23), 9 Granville-ave, West Dock street, Hull. Deckhand
McFEE, William (54), 75 Ena street, Boulevard, Hull. Skipper
MEARS, Alfred (22), 3 Fern-grove, Harrow street, Hull. 3rd/Hand
RIDSDILL, William (27), 6 Cedar-grove, Eastbourne street, Hull. Chief Engineer
ROBERTS, Clarence (21), 5 Louisa-ter, St. George's road, Hull. Trimmer
SANDERSON, William (60), 8 Naburn street, Hull. 2nd/Engineer
SMITH, William (43), 8 Langdale-crescent, Flinton street, Hull. Bosun
TUTCHER, John (50), 2 Chiltern-villas, Division road, Hull. Sparehand

Photo (left) is of William George Worrell, Skipper of the Steam Trawler 'TITANIA' lost at sea, 11th May 1915, aged 53. He left a wife and seven children, at 1 Belgrave Terrace, Eton

Street, Hull.



During the First World War, 300 Hull ships were used as minesweepers and for searching submarines. 61 of these Hull ships were lost during the war. Fishermen were seen as the best people for the job, as their ships were ideal for this task, they knew the waters well and they could not continue fishing anyway. They swept an area one mile wide and a 540 miles in length from Dover to the Firth of Forth. This was known as the 'War Channel' and all shipping and convoys moved through this channel, which was swept of mines daily. The most effective method for minesweeping was the use of a serrated wire towed by two ships. This would cut through the morring cable of submerged mines, either expoding them, or allowing the mine to rise to the surface, where it could be exploded by rifle fire. During the war, the Germans laid 1,360 minefields, containing 25,000 mines in Britsh waters. These mines accounted for 46 Royal Navy warships, 269 merchant ships and 63 fishing vessels, which in total, amounted to over 1 million tonnes of allied shipping sunk.
Only 93 Hull trawlers were used for fishing during the war, and all fish & chips shops were closed in Hull throughout the war. The vessels which remained fishing, were usually old ships that had not been requisitioned by the Royal Navy. The were usually crewed by old men and young boys, unable to serve their country. Nevertheless, these men and boys took similar risks to the many warships. They sailed their unarmed vessels into a mine infested sea, knowing that at any time a U Boat could sink them. They were also prime targets for the German Airforce, or Zeppelins that headed to the North Sea fishing Grounds, for easy pray. As the losses to the fishing fleet increased, further restrictions on vessel movements, made fish scarcer and demand could not be met. The rising price of fish was due to this shortage in supply. Prices increased so dramatically, that vessels which averaged a profit of between £6,000 and £7,000 a year before 1914, were by 1917, averaging profits between £30,000 and £40,000. Many of these profits went to the ship owners, rather than the crews. It enabled the owners to build 40 new fishing vessels during the war, at the Earles shipyard in Hull. Other firms built another 35 fishing ships at a time when there was a shortage of skilled labour and materials.
Nine fishing trawlers from Hull were lost by mines, although others which were listed as missing may have met the same fate. The first Hull vessel sunk by a mine was the 'IMPERIALIST H250', on the 6th September 1914, 40 miles 'ENE' of Tynemouth.
The Auxiliary Patrol was a front line naval defence force, composed of numerous small craft, tasked with minesweeping and anti submarine patrols, initially around the British Isles, but later also in the Mediterranean. A wide variety of vessels were used, including requisitioned fishing vessels, yachts and motor boats. Like the Minesweepers, the Auxiliary patrol was manned by fishermen and included seaman from all over the world. Their tasks were numerous, the main ones being, patroling and protecting 565 miles of sea lanes to ensure safe passage. They carried little armanants, but escorted convoys on the outer flanks, listening for submarines with specially fitted hydrophone equipment. They would spot enemy aircraft and listen for any U Boat activity near the convoy and if detected drop depth charges. In may instances when a convey was attacked or torpedoed, vessels would steam off to limit losses. The Auxiliary Patrol would however remain on the scene to pick up survivors, often putting their own vessels is danger of attack. Submarine was usually a very personal and private war. If you were in it you knew all about it - how to keep watch on filthy nights, how to go without sleep, how to bury the dead and how to die bravely without wasting anyone's time. The war saw the loss of many fine ships and good men.
Hull's first Auxillary patrol vessel lost, was the HMT 'COLUMBIA'. She was attacked by E Boats off Forness, on the 1st May 1915, with only one survivor.
Submarine Warfare. A far greater threat than the mine, and the largest number of losses, were due to submarine gunfire. A German submarine would surface close to the fishing fleet and in most cases at the beginning of the war, would take the crews off several trawlers and place them aboard another vessel to take them back to port. The unmanned vessels would then be sunk by shell fire from the submarine or a bomb placed aboard. The first Hull vessel sunk by a German U-Boat was the 'MERCURY H518' on the 2nd May 1915. This was to change when armed escorts were sent with the fishing vessels and the vessels themselves carried guns, Hull ships then became a target like any other warship and were sunk without warning. In several cases the crews were taken prisoner and were interned in POW camps.
On 3rd May 1915, eight Hull Vessels were sunk by submarine while fishing in the same area of the North Sea. These were the, 'BOB WHITE H290', 'COQUET H831', 'HECTOR H896', 'HERO H886', 'IOLANTHE H328', 'MERRIE ISLINGTON H183', 'NORTHWARD HO H455', and 'PROGRESS H475'.
Hull lost 68 fishing vessels during the WW1 period, from 1914 to 1920. These were vessels that were not on Admiralty service or in the Fishery Reserve. Seven of these vessels were lost due to collision or grounding and were not a consequence of war, 11 were listed as missing of which the cause was unknown, they may have been sunk by enemy action and unclaimed, or most likely contacted drifting mines or entered an unknown mined area. Of the remainder, 4 were sunk by Torpedo Boats. 19 ships where sunk by submarine gunfire and 13 had bombs placed aboard by submarine crew. There were also several other vessels sunk after this period due to mine contact. Another 5 vessels were lost while in the Fishery Reserve. (For the full list see the following link)
http://www.hulltrawler.net/History/WW1/Lost%20Fishing.htm
Hull lost 61 Minesweeping trawlers on Admiralty service during the war. On average half the crew of a minesweeper were lost with the ship. By the end of the War, only 91 Hull owned ships were afloat, 9 of which had been built during the war. Hull lost nearly 1,200 merchant crewmen, another 267 Royal Navy sailors and 38 Royal Marines.The majority of these died at sea and have no known grave.
To add to the tragedy, there was little compensation for a sailor's family. Sailors pay stopped when their ship sank, and usually only paid if they died with the ship. Sailors who left their ship in life boats were deemed to have discharged themselves from duty and often had their sea pay docked.
At the end of the First World War, Lord Jellico declared that the Royal Navy had saved the Empire, but it was the fishermen in their boats who had saved the Royal Navy. The Royal Naval Reserve of fishermen was "a Navy within the Navy". They swept mines, escorted convoys, hunted U-boats and carried out countless dangerous duties. While often overlooked by Admiralty officials, there contribution was at least recognized by Admiral Sir Reginald Bacon who said; 'It is doubtful if we could have defeated the Germans, at any rate as quickly as we did defeat them, if it had not been for the assistance which the Royal Navy received from the fishing community.'
Hull ships and crews therefore played a major part in that victory. The ongoing peril of unexploded sea mines continued to take the lives of Hull fisherman, long after the war had ended. For example, the Hull Trawler 'Gitano' struck a mine and was sunk with all hands on the 23rd December 1918. The Hull Trawler 'Scotland' struck a mine on the 13th March 1919, killing 7 Hull men. Two days later, the steam ship 'Durban' exploded', killing another eight Hull sailors. The 'Isle of Man' (Hull) exploded on the 14th December 1919, killing a further seven Hull fishermen. The steam ship 'Barbados' exploded on the 5th November 1920, taking ten Hull men. These included the two Weaver brothers killed on the same day. Many of these seaman had survived the war, only to be its victims after.
Illustrations of life on board a trawler - "In the Wheelhouse, Mail Day, playing cards, cleaning guns, the Galley cook, the stoker, the radio officer, slipping the "kite" which controls the mine sweeping depth."

.
Dangerous work for fishing trawlers used as minesweepers
When the Royal Naval Reserve (RNR) was first created in 1859, it consisted of up to 30,000 merchant seamen and fisherman who the Navy could call on in times of crisis. Fishing trawlers were strong, sturdy ships, designed to withstand severe weather conditions out at sea, and in 1907 the Commander-in-Chief of the Home Fleet, Admiral Lord Beresford, recognised that trawlers could be used as minesweepers.
His recommendation led to the formation of the Royal Naval Reserve (Trawler Section) in 1910, with approval to mobilise 100 trawlers during any crisis period and enrol 1,000 men to man them. It also introduced a new rank, that of 'Skipper' RNR, into the Navy List. By the end of 1911, 53 skippers had joined. In 1912 a further 25 enrolled and the Trawler Section of the Royal Naval Reserve, consisted of 142 trawlers manned by 1,279 personnel. 31 more skippers joined before the war started in August 1914, making a total of 109 skippers. Another 315 more volunteered by the end of the first week in October. By the end of 1915 the Minesweeping Service employed 7,888 officers and men.
The Royal Naval Reserve (Trawler Section):
Before the war started there were already 142 trawlers in the Trawler Section of the RNR and 109 skippers enrolled. During the first week of the war in 1914, 94 trawlers were allocated for minesweeping duties and

dispersed to pr

iority areas, including Cromarty, the Firth of Forth, the Tyne, the Humber, Harwich, Sheerness, Dover, Portsmouth, Portland and Plymouth.
T
hey were supplied with mine gear, rifles, uniforms and pay as the first minesweepers.
They were commanded by naval officers, some from the retired list, who had received a brief training in minesweeping. Apart from the skippers, officers were also required to supplement the handful of naval officers of the existing minesweeping service. Most of the trained pre-war RNR and RNVR officers had already been called up for service in the Fleet. For the new minesweeping and auxiliary patrol flotillas, officers and civilians were obtained from the Merchant Navy and given temporary commissions in the RNR and RNVR. To bolster naval discipline, various Royal Fleet Reserve and pensioner petty officers were distributed among the vessels.
In August 1914 the Royal Navy began to requisition more trawlers and adapt them for minesweeping duties, fitting them out with heavy guns, machine guns and depth charges. By the end of 1916 the Navy had requisitioned so many trawlers, and the war had such an impact on shipping, that the supply of fish to the UK was severely limited. New trawlers were also built. Between 1914 and 1918, 371 trawlers were built in the Humber shipyards and almost all of them were taken up by the Navy and used as minesweepers, submarine spotters and coastal patrol boats. Men were asked to volunteer for the new service, and many did so. The Humber area provided over 880 vessels and 9,000 men from the fishing industry to support the war effort.
A mine is an explosive device left in the water to explode on contact with a ship or submarine. Mines were difficult to see and very effective once they had struck a target. The minesweepers had to 'sweep' the mines using wires, bring them to the surface then detonate them by firing on them.

Moored mines only had a short length of chain shackled to them. The rest of the mooring was wire cable or even sisal rope in some cases; otherwise the mine could not support the weight of its mooring, particularly in deep water. This was the part of the mooring, that the sweep wire or any fitted cutter, was intended to sever.

Sometimes gathering a group of mines together could lead to multiple explosions. A chain reaction could result in one massive detonation which would often sink the minesweeper. Minesweeping was therefore extremely dangerous work. It required 'nerve, skill and unremitting watchfulness', according to a journalist at the time.
How did they 'sweep' mines?
Early mine sweeps simply comprised of chains towed over the seabed between two ships, or even by a single ship to drag mines and their moorings out of a channel. These were later replaced with serrated wire cables towed between two ships (Actaeon Sweep). Development of the Oropesa Sweep, with its divertors and depth-keeping kite, allowed sweeps to be towed by a single ship. Sweep wires were made from flexible, steel wire rope and streamed from each quarter of a minesweeper. The cables were laid right or left-handed according to the side streamed. This helped the wires achieve hydrodynamic lift and spread. A single strand in each wire was laid in the opposite direction to provide a serrated cutting effect.
The 'Paravane', a form of towed underwater "glider", was developed from 1914–16 by Commander Usborne and LieutenantC. Dennistoun Burney, funded by Sir George White, founder of the Bristol Aeroplane Company. Initially developed to destroy naval mines, the paravane would be strung out and streamed alongside the towing ship, normally from the bow.The wings of the paravane would tend to force the body away from the towing ship, placing a lateral tension on the towing wire. If the tow cable snagged the cable anchoring a mine then the anchoring cable would be cut, allowing the mine to float to the surface where it could be destroyed by gunfire. If the anchor cable would not part, the mine and the paravane would be brought together and the mine would explode harmlessly against the paravane. The cable could then be retrieved and a replacement paravane fitted. Burney explosive paravanes were deployed from torpedo boat destroyers in a configuration known as the 'High Speed Sweep' to counter submarines. However, most paravanes were non-explosive and were streamed by larger warships and merchant ships as self-defence measures to divert moored mines away from their hulls. They comprised a wire streamed to each side from the bows with a float secured to the end to divert it outwards. This is illustrated below.
At the end of the war, Britain was one of 26 countries represented on an International Mine Clearance Committee, dedicated to clearing 40,000 square miles of sea of leftover mines. Several hundred thousand mines had been laid during the conflict by both sides. Each power was allotted an area to clear. The Mine Clearance Service was formed in 1919 and worked to clear Britain's allocated area until it was disbanded the following year.

By the time of the Armistice, t

he Trawler Reserve now consisted of 39,000 officers and men of whom 10,000 were employed in minesweepers and the rest in the auxiliary patrol. The 10 ex-torpedo gunboats available as minesweepers at the outbreak of the war had been replaced by purpose-built ships, including:
72 Flower Class single-screw fleet minesweeping sloops of the Acacia, Arabis and Azalea types,
107 Hunt Class and Improved Hunt (Aberdare) Class twin-screwed minesweepers,
24 'Class of 24' fleet sweeping sloops,
32 Ascot Class and Improved Ascot Class minesweeping paddle-steamers,
13 Grimsby Class general purpose sloops and
10 Dance Class 'Tunnel Tug' inshore minesweepers.
Total RN minesweeping forces included 762 ships stationed at 26 home ports and 35 foreign bases. 214 minesweepers had been lost during the four years and three months of the 1914-1918 war.
ur_collections/source_guides/ships_and_shipping.aspxhttp://www.hullcc.gov.uk/museumcollections/collections/theme.php?irn=158
http://www.mylearning.org/local-heroes-hulls-trawlermen/p-2631/
http://www.hullhistorycentre.org.uk/discover/hull_history_centre/
http://www.naval-history.net/WW1LossesBrFV1914-16.htm
http://www.scarboroughsmaritimeheritage.org.uk/auboatsarthurgodfrey.php
http://www.bbc.co.uk/news/magazine-30128199
Thank You to "Hull, the Good Old Days" Facebook, for the above photos.
The Young
There were also many young men killed in the armed forces. Probably one of the youngest was Private, Harry Jipson, 1351, 12th East Yorkshires, killed in action at Loos on the 24th August 1916. He was only 16 years old, and lived at 73 Regent Street.
The Hull WW1 Memorial contains the names of a thousand other teenagers. One of the first of these was Private, Andrew Ernest Elton, 10469, 3rd Coldstream Guards, killed on the Marne, on the 14th September 1914, aged 17 years old. He lived at 1 Normans Terrace, Campbell Street which has now been demolished.
The last teenager to die was probably Private, Edward Goy, 2/4th York & Lancaster Regiment, who died at Rouen on the 10th November 1918, a day before the war officially ended. He was eighteen years old and lived at 30 Sandringham Street, Hull.
Unrecorded losses
There are many Hull casualties which do not appear in Official War records. Sadly this is not unusual, as details of deaths were compiled hurriedly to inform relatives quickly, and errors were made in the confusion. There were also no computers, and for many reasons, hand written paper records were not recorded accurately. Often, discharged Servicemen, or those who died due to sickness, accidents, or as prisoners, were sometimes not deemed as war casualties. Their deaths however were recorded by local newspapers, or by their families on local church memorials. The Hull Memorial tries to remember these men, so they are not forgotten. Some Hull soldiers not remembered in the official war records include:-
Christopher Parker, Amos Spruit and S COOTER, listed on St Mary's Parish Church memorial, Sculcoates Lane.
Sgt, Frederick Williams, Border Regiment, recorded as killed in action, in the Hull Times on 12/6/1915. He is listed in St Charles Catholic Church, 12 Jarratt Street, Hull.
John W Jerderin, F. Brett and S.T.E. Coates, S. Miller, recorded on the Walker Street memorial.
F.H. Baxter and F. Whitehead, both listed as fallen in St Mathews Church, Boulevard.
Private, William Cooper Feirn, RAMC, from 236 Marlborough Avenue, recorded as killed, on the Methodist Church War Memorial, Princes Avenue, Hull.
Septimus H. Fielding, Sydney Arthur Larter and Abraham Sultan, remembered on Hull's Techical College Roll of Honour, Park Street, but whose deaths are unrecorded in military records.
Samuel Brocklington, recorded as lost in the St Barnabas Book of Rememberance, Hessle Road.
Joseph Evette, RFA, died of wounds 2/10/18, whose father lived at 3 Ryde Street.
Private, E Gregory, listed as fallen on the Wilmington Roll of Honnour.
Private, Fred Cheesman, from 118 Dansom Lane, listed as dead, on the Reckitt's Factory Memorial.
Stoker, Alfred Rene Sawyer, Royal Navy, HMS 'Powerful' listed in the Hull Daily Mail as died.
Private, Bob Farrow, from Walcott Street, reported by the Hull Daily Mail, as accidentally killed at sea, on 26/7/17.
Private, 33420, John Miller, 11th Bn. EYR, killed 29/9/18. He left his wife Ellen and 4 Children at Scott Street, but is not officially recorded.
Private, George Maple, Hussars, listed killed in action on 13/5/15, leaving a widow and children (HDM 13/5/16). No cwgc records.
Gunner, Joseph Elliot, RHA, recorded in 'Soldiers Died' records' as killed in action on 24/8/1916, but not listed by the Commonwealth War Grave Commission. He had been a Boilerman, and lived with his wfe Ellen in Bean Street.
Gunner, Richard Henry Hepton, RGA, accidentally killed on 4/8/1916, tampering with a shell. He is remembered on the St Paul's Street, Roll of Honour.
Private, Sam Thomas, 1st EYR, killed on 31st August 1915. He was aged 20 and lived at 55 Constable Street. His death was reported in the Hull Daily Mail, but not recorded in the 'Soldiers Died' records.
Lance Corporal, Charles Carter, Royal Fusiliers, is listed in the 'Soldiers Died' records, as living in Hull and killed on the 7/3/1916, but he is not recorded by the War Graves Commission.
William Johnson, of the East Yorkshire Regiment reported killed on 2/8/18 aged 28, in the Hull Daily Mail 12/8/18. His mother lived at 2 Bishop Avenue, Division Road. His death is not recorded in official casualties.
Similarly, Private, William Billamy, from 8 Queen Street Hull, killed in action on 4/8/17. (HDM 4/8/17)
Private, Walter Leonard Welton, 40308, Northhumberland Fusiliers 16th Bn., killed in action, on 2/12/17, aged 27, and buried at Zonnebeke, is strangley not recorded on the CWGC records. He was the son of John and Alice Welton, who lived at 163 Woodcock Street. His name appears on the war Memorial, at St John the Baptist Church, Hull. His picture appears here, so that Walter Leonard Welton is not forgotten.
Lance Corporal, William Elam Oxley, EYR, from 64 Havelock Street, was listed as died in the Hull Daily Mail, but remains untraced.
Private, Charles Athur Lockton, Northumberland Fusilers, discharged from the army, as 'mentally unfit' on the 24/4/1918, and died in an asylum on the 13/11/1918. He is not recorded by the Commonwealth War Graves Commission, but was remembered by his wife Clara, at 14 William Street, on the Walker Street memorial. Similarly, Private, Charles Henry Wilson, 1382, EYR, discharged with heart failure in 1916, died at 104 Dansom Lane, aged 33.
Private, William Trow Partridge, 3rd Bn. EYR, enlisted 14/9/1914, and discharged as 'unfit' on the 27/7/1916. His mother lived at 166 Victoria Avenue.
Private, Lawrence Willerton Parker, NFUS, killed in action on 11/4/18. Lived at 39 Sculcoates Lane (HDM 23/5/17.
Gunner, Charles Revill, 241851, RFA, discharged as 'unfit' on 17/11/1919, and died soon after.
Driver, Leonard Wright, RFA, from 79 Chiltern Street, discharged on 15/2/1915.
Private, Thomas William Bainbridge, RAMC, died 29/12/1917. aged 22. He lived at 12 Crown Place, Wassand St, and is remembered at St Mathews Church. Boulevard.
Private, George Albert Wood, died of wounds on 23/9/16, aged 23. He lived at 35 Havelock Street. His death is reported with a photo in the HDM 27/9/16.
Private, Bertram Percy Wood, 201663, 1/4th Bn, EYR, from 18 Frinsbury Grove, is listed as fallen on the Hull Technical College Memorial.
Private, Fred Higginbottom, 3rd Bn. Coldstream Guards, killed on 15/9/1917, aged 23. He was the son of James and Elizabeth, at 6 Newton Street. His death was reported in the Hull Daily Mail on the 18/10/1918. he is unrecorded in official deaths.
Private, Leonard Anthony Powers, 10th West Yorkshire Regiment, killed on 1/7/16, aged 18, was the son of Margaret Powers, at 100 Buckingham Street.
Private, Jack Beautement, Durham Light Infantry, from 44 Lambert Street, killed on 28/5/1918 aged 19;
Sapper, John Ogle, RE's, died on the 12/6/1915, was from Leeds, but worked as a salesman in Hull.
Private, O'Donough, Royal Irish Fusiliers, died in Salonika, aged 52. He had served for 34 years & lived at 55 Alexandra Street. Photo in the HDM 10/11/16.
Private, Bertram Stafford, 1325, 1/4th Bn, EYR, died in Belgium on the 8/7/1915, aged 26. His sister Alice lived at 70 Holdrness Road. He is remembered on the 'Hull Heroes' website.
Private, Fred Spooner, 16146, EYR, killed 26/3/18 aged 36. Son of Sarah - 14 Victoria Terrace, Staniforth Place. No CWGC records.
Air Mechanic, Edward William Barnes, RFC, died on 1st May 1917, aged 21. He lived at 45 Belvoir Street and was listed 'missing' in the Hull Daily Mail on 21/5/17.
George W. Bishop died 12/11/14. Son of Alexander and Sarah Bishop (HDM 12/11/17);
James Mason from 7 Little George Street, died 13/9/16, aged 19 (HDM 12/11/17);
Cpl., C Harrian, Hussars, killed in action on 22/3/18, aged 35 years. He was an former footballer at Hull's Victoria barracks and left a widow and 2 children. These deaths are reported in the Hull Daily Mail but are untraced in formal casualty lists.
There are many more Hull men, who died in the war and are unrecorded in official war records. As it is a complicated process to verify casualties from 100 years ago, they have been included in the Hull Memorial, to ensure that they are remembered. If you have any information about these casualties, please e-mail this site.
Voluntary Aid Detachments (VADs)
The Voluntary Aid Detachment (VAD) was a voluntary organisation, providing field nursing services, mainly in hospitals to Britain and various other countries in the British Empire. The organisation was founded in 1909, with the help of the Red Cross and Order of St John.
By the summer of 1914 there were over 2,500 Voluntary Aid Detachments in Britain. Each individual volunteer was called a 'Detachment', or simply a VAD. Of the 90,000 VADs who served in World War One, two-thirds were women and girls, mainy from well educated and 'middle class' backrounds. They assisted with cooking, clerical tasks and nursing. They aided the sick and injured from the battlefields in very dangerous circumstances. Diseases such as cholera, typhoid and the Spanish flu struck the troops and affected many of the VADs. At least 500 nurses died in World War One, many of 'Flu' serving their patients to the end. The true casualty figure for nurses may never be known due to inconsistencies in the recording process. However, a memorial to those nurses who died, including over 100 VADs, was errected at York Minster after the war. The devotion and dedication of the VADs was a remarkable legacy of the First World War.
In Hull, Lady Marjorie Wynn-Carrington, also known as Lady Nunburnholme, contributed immensley to Hull's Voluntary Aid Detachments in World War One.
Lady Nunburnholme, became President of the organisation, and made 150 Peel Street, the Headquarters for the 'Voluntary Aid Detachments of Hull and East Riding'. She organized three hospitals to be started in Hull. She also opened the popular 'Rest Station' canteen, at Hull Paragon Railway station, on the 1st September 1914. Towards the end of 1916, she successfully raised money for a Christmas Fund and sent gifts to troops associated with Hull and East Riding. The Fund was popular and on one day alone collected over £1,000. In November 1917 the Christmas Fund raised over £3,000, sending gifts to thousands of men overseas. Observers on the Western Front noted how well the East Yorkshire soldiers were looked after by their Home town of Hull.
Support Services
'
Soldiers Clubs' were raised in Hull to help serving men. A Soldiers Club with reading room was located at Beverley Road baths on Stepney Lane and run by Major A J Atkinson and his wife.
A 'Soldiers & Sailors Wives Club' was formed on Mason Street by Mrs Hubert Johnson, the wife of the Lord Mayor. It was devoted to provide relaxation for the wife's of servicemen away from home.
Mrs Mower, member and caretaker of the Hull Social Club for Soldiers' and Sailors' Wives. She is standing by piles of sandbags made by club members, she herself having made over 200.
Paragon Railway Station housed a popular 'Rest Station and canteen' well used by departing troops. It was established by Lady Nunburnholme, on the 1st September 1914 and was staffed throughout the war by Voluntary Aid Detachments (VAD's). This provided refreshments as well as 'First Aid'
'Peel House' at 150 Spring Bank, was the VAD headquarters, and run by the Lady Mayor.
Peel House helped train nurses and locate hospital accommodation for soldiers posted to Hull. It also sent out thousands of parcels of clothing and essentials to troops home and abroad. War Correspondents in France were struck by the way East Yorkshire Units were looked after by people back home. Its most renowned work was sending thousands of food and clothing parcels, plus other necessities to Prisoners of War. This work was extended to captured seaman and interned civilians. Peel House raised public funds to fund their work. The residents of Freehold Street created a 'POW Bread Fund' and distributed food to prisoners of war through Peel House.
Hull was known as the 'Doorstep to Blighty' and received some 80,000 repatriated Prisoners of War, through its ports.
http://www.redcross.org.uk/~/media/BritishRedCross/Documents/Who%20we%20are/History%20and%20archives/VAD%20casualties%20during%20the%
Sister Mary Michael was based at the Beverley Road Convent, Hull (The Endsleigh Centre). She was born as Mary Mclaughlin in 1866 and entered the convent on Anlaby road 1885 with her first profession been made in march 1889.
During the First World War 1914 to 1919, the nuns visited many soldiers that had been injured and sent back from France to hospitals in Hull. One such Hospital was Brooklands Military Hospital, on Cottingham Road (now the Dennison centre opposite Hull university). One of the soldiers she was to meet was the writer and poet, J.R.R. Tolkien, who had been sent back from Fance with trench fever in 1917.
She became friends with Tolkien and later became godmother to his 2nd son. She stayed in touch with Tolkien all her life as evidenced by a letter written in 1949 when he describes her has a dear old friend. By this time she was to celebrate her diamond jubilee as 60 years, a nun. She later moved to a resident home in Whitby and died in 1951.
John Ronald Reuel Tolkien, great works are said to have been inspired by his stay at Brookland Hospital in Hull.
For Eighteen months in 1917 and 1918, author of The Hobbit, Lord of the Rings and many other fantasy and children's books, J.R.R. Tolkien lived at Brooklands Military Hospital on Cottingham Road in Hull. He had seen his battalion, which was fighting in the first world war, disbanded because of the huge number of casualties it suffered and was sent to East Yorkshire to recuperate from trench fever. It's now generally accepted that the landscape and coastline of East Yorkshire informed Tolkien's later writing. It has been dubbed 'The Tolkien Triangle'.
He spent time at Kilnsea and Easington and learned about the villages which were lost to the sea due to coastal erosion. It's also believed that a wood near Roos, which he visited with his wife, was the inspiration for the one he created near the fictional Hobbiton. Tolkien even directly copied some East Yorkshire place names into his work, with the village of Wetwang, for example, appearing in the Fellowship of the Ring.
To commemorate the time Tolkein spent in East Yorkshire, a plaque was mounted on the former Brooklands Hospital , which is now called the Dennison Centre and is part of the University of Hull's campus.
Photos above, from the Imperial War Museum Collection, and "Hull, the Good Old Days" Facebook.
Andrews
Cpl, Jack Andrews, Royal Engineers, from 75 Eastbourne Street, died of fever in Mesopotamia, aged 27.