Over, 7,500 Hull men died in the First World War. Over 1,200 of these were sailors working with the fishing fleet, or serving with the Merchantile Marine, the Royal Navy and the Royal Navy Reserve. They carried out vital war work, bringing in supplies, transporting troops and minesweeping the seas
There were nearly another 1,500 men who were born in Hull, but who lived elsewhere. They died fighting for Australia, Canada, New Zealand and America. There are many others, who enlisted in Hull or who were associated with the City, but are not usually remembered on Hull war memorials. As Hull had four large hospitals and was the port of entry for repatriated prisoner of wars, servicemen from all over the world are buried in Hull. The Kingston Upon Hull Memorial aims to remember all those with a Hull connection who died in the First World War.
There are over a hundred families on the Hull Memorial that lost two or more of their family. Sometimes fathers, sons and brothers were lost on the same day. Some families lost three sons, other Hull families lost four sons, including all their children in the First World War. At least one in six Hull families lost a direct relative. Many others would lose close friends, work colleagues or others known to them. Each death was irreplaceable and an individual tragedy for someone.
Unfortunately, not all deaths were recorded in official casualty figures, particularly if soldiers died of sickness, accidents or were discharged home with wounds, of illness. By 1924 the Ministry of Pensions reported that there were 20,000 war wounded living in Hull. Although they survived the war, they are rarely recorded on war memorials. What follows here are snippets of some of those people who died, whose deaths were reported in the local newspapers.
Jack Harrison VC, MC
Another Hull FC Rugby player, Lieutenant, Jack Harrison, VC, MC, of the East Yorkshire Regiment, was awarded the Victoria Cross posthumously, at Oppy Wood, on the 3rd May 1917. Jack Harrison was a record try scorer for Hull, scoring 52 tries in one season and 106 tries in 116 matches up to 1916. He was also a school Teacher at Lime Street school, one of 23 Hull Teachers killed in the First World War. Jack was the only rugby league player to receive the Victoria Cross during the war. He had previously won the Military Cross for bravery. A memorial to Jack Harrison stands outside the KCOM Stadium, today, in memory of his life's achievements.
Jack and his wife Lillian Harrison lived at 75 Wharncliffe Street with their only child. Their son John later became a Captain in the West Yorkshire Regiment and was killed at Dunkirk in 1940.
Jack Harrison VC, MC, is listed on the memorial at St Mary's Church, Lowgate. His Victoria Cross was bequeathed to Hull City Council and a bronze memorial plaque with his medal citation hangs in the Guildhall today.
'One of Hull's True Heroes' - http://www.bbc.co.uk/news/uk-england-humber-28405119
http://hullwebs.co.uk/content/k-victorian/people/jack-harrison/jack-harrison.htm
Other Hull Sportsmen
LANCE CORPORAL, ARTHUR GIBSON, 13/1431, 8TH EYR.
BORN HULL 1891. YOUNGEST SON OF WILLIAM THIRSK & ELIZABETH GIBSON, OF ENDYKE LANE, HULL. A FORMER TEACHER AT ADELAIDE STREET BOYS SCHOOL. HE WAS A PROMINENT SPORTSMAN, HAVE PLAYED CRICKET FOR SEVERAL SEASONS WITH THE HULL X1 AND ALSO FOOTBALL FOR GOOLE TOWN AFC. HE ENLISTED IN THE 13TH EAST YORKSHIRE REGIMENT (THE HULL SPORTSMAN BATTALION), ON 12/06/1915. QUALIFIED AS A SIGNALLER. HE ARRIVED IN FRANCE ON 12/12/1916. SERVED AS LANCE CORPORAL, WITH THE 8TH EAST YORKSHIRE REGIMENT FROM 13/01/1917. KILLED IN ACTION, ON 05/05/1917, AGED 26. HE IS COMMEMORATED ON THE ARRAS MEMORIAL TO THE MISSING. HIS DEATH WAS REPORTED IN THE HULL DAILY MAIL, WITH HIS PHOTOGRAPH.
GUNNER, JAMES FRANCIS BROCKLEHURST, 10TH EYR.
BORN VICTORIA, VANCOUVER 1896. ALSO KNOWN AS FRANCIS JAMES. SECOND SON OF JAMES CLARK & MARY BROCKLEHURST, 56 PLANE STREET, ANLABY ROAD. HE WAS KILLED IN THE ATTACK A SERRE ON 13/11/1916, AGED 21. HE IS LISTED AT ST MATHEWS CHURCH ROLL OF HONOUR. HE JOINED THE HULL PALS AT THE START OF WAR AND WAS TRANSFERRED TO THE MACHINE GUN SECTION. BEFORE THE WAR HE WORKED IN THE FRUIT TRADE. A KEEN SPORTSMAN HE WAS A MEMBER OF THE ST ALBANS CRICKET TEAM & THE HULL & DISTRICT HARRIERS CLUB, BASED AT CALVERT LANE IN HULL.
HE RAN IN THE CLUB'S, EIGHT MILE RACE, IN FEBRUARY 1914. HIS DEATH WAS REPORTED IN THE HDM ON 22/12/16 WITH HIS PHOTOGRAPH. HIS OLDER BROTHER WILLIAM SERVED IN THE EAST YORKSHIRE HEAVY BATTERY IN EAST AFRICA.
THE FOLLOWING HULL RUNNERS WERE KILLED IN THE GREAT WAR:-
PTE, PERCY WRIGHT, 1/4TH EYR, 3/05/1915, YPRES, AGED 18 - 40 MORRILL STREET, HULL.
PTE, GEORGE HENRY TAYLOR, 10TH WYR, 31/10/1916, AGED 22 - 16 CHESTNUT AVENUE, BUCKINGHAM STREET, HULL.
PTE, FRED SNOWDEN, 13TH EYR, 13/11/1916, AGED 22 - 13 WINNIE'S PLACE ST LUKES STREET
CPL, FRANK SIMPKINS, RFA, 21/04/1917, AGED 24 - 16 CURZON STREET, HULL.
PTE, WALTER BARNES, 13TH EYR, 4/05/1917, AGED 34 - 34 BRECON STREET, HULL.
PTE, SYDNEY WILBURN, 1/7TH MIDDLESEX REGIMENT, 30/08/1918, AGED 30 - 1 HAWTHORNE AVENUE, PULMAN STREET.
PTE, BERT WHYDLE, 7TH LINCOLNSHIRE REGIMENT, 26/08/1918, AGED 27, WHO MARRIED AND RESIDED IN HULL, WAS A REMARKABLE RUNNER AND HELD THE MARATHON CUP AND OTHER PRIZES FOR FLAT RACING. HIS ARMY EFFECTS WERE LEFT TO HIS WIDOW, OLIVE, AND DAUGHTER, BEATRICE
THE GREAT WAR TOOK A HEAVY TOLL ON HULL HARRIERS ATHLETIC CLIB. IT'S SPORT'S PAVILION WAS DESTROYED IN A ZEPPELIN RAID (AND AGAIN IN WORLD WAR 2). SEVEN OF THE NINETEEN HULL HARRIERS, THAT RAN TOGETHER IN THE 8 MILE CHAMPIONSHIP RACE ON 21/02/1914, DIED IN THE GREAT WAR. OTHERS WERE WOUNDED. IT TOOK A LONG TIME FOR THE HARRIERS CLUB TO RECOVER. ONLY EIGHT RUNNERS TURNED OUT, FOR THE FIRST, 'EIGHT MILE HANDICAP' RACE, HELD AFTER THE WAR, ON THE 14TH FEBRUARY 1920.
PTE, THOMAS ERNEST HUDSON, 9TH WEST YORKSHIRE REGIMENT. BORN HULL, ON 13/05/1894. SON OF THOMAS WILLIAM HUDSON & ANNIE PARKER, OF 9 ALBERT SQUARE, ELLAS STREET. LIKE HIS BROTHER FRANCIS, HE WAS A MEMBER OF THE ST JUDES FOOTBALL TEAM, THE HULL CITY SWIMMING CLUB AND THE HULL HARRIERS RUNNING CLUB. HE ENLISTED IN HULL, ON 25TH AUGUST 1914. HE LEFT FOR THE DARDENELLES, ON THE 3RD JULY 1915, AND WAS KILLED IN ACTION, AT SULVA BAY, ON 7TH AUGUST 1915, AGED 21. HIS BROTHER, PTE, FRANCIS PARKER HUDSON, 20847, RAMC, DIED AS A PRISONER OF WAR, IN GERMANY, ON THE 20TH OCTOBER 1918, AGED 23.
SGT, JAMES GUEST, 3RD EYR. BORN HULL, 1889. AN ORIGINAL HULL PAL. HIS WIFE FLORENCE LIVED AT 25 FALMOUTH STREET. HE WAS WELL KNOWN IN FOOTBALL CIRCLES AND ACTED AS GOAL KEEPER FOR HULL CITY JUNIORS FOR A NUMBER OF YEARS, VISITING HOLLAND TO PLAY AGAINST A DUTCH FOOTBALL TEAM. HE ALSO PLAYED FOR LAMBERT STREET CRICKET CLUB. IN CIVIL LIFE, HE WORKED AS A CLERK FOR MR E T CLARKSON, PRINCES DOCK SIDE. HE ENLISTED IN SEPTEMBER 1914 AND WAS DISCHARGED ON THE 21ST JANUARY 1919. HE SERVED FOUR YEARS AND 105 DAYS, OF WHICH TWO AND HALF YEARS WERE SPENT IN FRANCE. HE DIED OF PHEUMONIA AT HOME, LEAVING A WIDOW AND ONE CHILD. HE WAS 30 YEARS OLD. HIS DEATH WAS REPORTED IN THE HULL DAILY MAIL ON 25TH FEBRUARY 1919, WITH HIS PHOTOGRAPH.
PTE, FREDERICK CHARLES CLARK, 7TH LEICESTER REGIMENT. BORN BRISTOL 1899. SON OF WALTER WILLER AND BENA CLARK, HEDON. FRED CLARK WAS A HULL CITY FOOTBALLER, WHO PLAYED CENTRE FORWARD AND SCORED BOTH GOALS IN THE THAMESMOUTH CUP. HE ENLISTED IN HULL AND TRANSFERRED TO THE LECIESTER REGIMENT. HE WAS KILLED IN ACTION ON THE 27/05/1918, AGED 19. HE IS LISTED ON THE SOISSONS MEMORIAL WHICH REMEMBERS ALMOST 4,000 BRITISH SOLDIERS WHO DIED IN THE BATTLES OF THE AISNE AND MARNE IN 1918, WHO HAVE NO KNOWN GRAVE.
PTE, JOHN SEYMOUR LEE, EYR. BORN IN HULL 1897, & JOINED THE HULL PALS. HE WAS THE SON OF JOHN & MARY ALICE LEE, 52 GREAT THORNTON STREET. EDUCATED AT CONSTABLE STREET SCHOOL, WHERE HE WON A SCHOLARSHIP TO BOULEVARD SECONDARY SCHOOL. WHILE THERE HE RECEIVED TWO MORE BURSARIES AND FINISHED WITH A FIRST CLASS CERTIFICATE. HE LEFT SCHOOL AT 16 TO WORK FOR MESSRS BRUNT, BUCKNALL & CO. HE ENLISTED THE DAY AFTER THE FIRST ZEPPELIN RAID ON HULL, AGED 18. HE WENT TO FRANCE IN APRIL 1916 AND KILLED IN ACTION ON 13TH NOVEMBER 1916, AGED 19. HE WAS A KEEN LOVER OF SPORT AND FOLLOWED HULL FC TO EVERY NORTHERN UNION GROUND. WHEN HE WENT TO FRANCE HE SAID "WHATEVER HAPPENS, I HAVE SEEN HULL WIN THE NORTHERN UNION CUP." HE ALSO PLAYED TWO YEARS FOR THE STUDLEY CRICKET TEAM. PLAYED IN THE FIRST DIVISION OF THE HULL WHIST LEAGUE WHERE HE WAS KNOWN AS THE 'YOUNGEN'. HIS FRIENDS REMEMBERED HIM AS "ALWAYS MERRY AND BRIGHT." HIS DEATH WAS REPORTED IN THE HULL DAILY MAIL, ON THE 14TH JULY 1917.
L/CPL, CHARLES FREDERICK ROWE, RE'S. BORN HULL 1892. ENLISTED HULL. SON OF DANIEL & MARY ROWE, 16 DIVISION ROAD, HESSLE ROAD. LIKE HIS LATE FATHER HEWORKED AS A SHIP RIGGER AND WAS WELL KNOWN AT ST ANDREW'S DOCK. A FORMER MEMBER OF HULL THURSDAY CYCLING ROAD CLUB. HE WAS WELL KNOWN IN CYCLING CIRCLES AND HELD THE 50 MILE AND 25 MILE CLUB RECORD. HE HAD BEEN IN FRANCE FOR ELEVEN MONTHS, WHEN HE WAS KILLED IN ACTION. HIS DEATH WAS REPORTED, WITH HIS PHOTOGRAPH, IN THE HULL DAILY MAIL ON 25TH MAY 1917. HIS TWO BROTHERS ALSO SERVED IN THE ARMY.
SGT, ARTHUR ERNEST SANDERSON, 4th EYR. BORN HULL 1897. THE ONLY SON OF WILLIAM AND ANNIE SANDERSON, 41 BRUNSWICK STREET. DIED OF WOUNDS ON 11/9/17, AGED 20. HE WAS A MEMBER OF CRANBROOK AFC AND REMEMBERED ON THE HULL TECHNICAL COLLEGE MEMORIAL, PARK STREET HULL.

SAPPER, JOSEPH CHARLES MCDONALD, RE'S. BORN HULL 1896. SON OF DANIEL & SARAH MCDONALD. 4 MASON STREET, HULL. DIED OF GAS POISONING RECEIVED IN FRANCE. HE RETURNED HOME WHERE HE DIED ON THE 25/10/18, AGED 22. JOE HAD WON THE 9 STONE BOXING CHAMPIONSHIP OF HULL, FOUR YEARS BEFORE. BEFORE ENLISTING IN MAY 1915, HE WORKED AS A MILL HAND, FOR MR VOKES, BUILDING CONTRACTORS. HE HAD SERVED IN FRANCE FOR NEARLY THREE YEARS. HIS DEATH WAS REPORTED IN THE HULL DAILY MAIL ON 6TH NOVEMBER 1918, WITH HIS PHOTOGRAPH. JOE MCDONALD IS LISTED ON THE ST CHARLES' CHURCH MEMORIAL HIS BROTHER SAPPER JAMES MCDONALD, RE'S, DIED 23/5/16. ANOTHER BROTHER, DAVID MCDONALD WHO WAS DUE TO ENLIST, WAS FOUND DROWNED IN BEVERLEY BECK, IN 1917, AGED 17 . IN ADDITION TO THESE THREE SONS WHO LOST THEIR LIVES. ANOTHER, WILLIAM MCDONALD LOST ONE OF HIS LEGS IN AN ACCIDENT AT THE EAGLE OILS MILLS. TWO MORE BROTHERS, SAPPER, DANIEL MCDONALD WAS WOUNDED AND CHIEF OFFICER, JOHN MACDONALD, WAS TORPEDOED TWICE. THE MCDONALD FAMILY HAD EXPERIENCED THIS EXTRAORDINARY BAD LUCK IN THE SHORT SPACE OF TWO YEARS.
SAPPER, JAMES MCDONALD, RE'S. BORN HULL 1895. SON OF DANIEL & SARAH, 4 MASON STREET. JAMES McDONALD LIKE HIS BROTHER JOSEPH WAS WELL KNOWN IN BOXING CIRCLES AND WON THE FEATHERWEIGHT BOXING CHAMPIONSHIP OF HULL, AT BEVERLEY ROAD BATHS, IN MARCH 1914. HE DIED OF WOUNDS ON 23RD MAY 1916, AGED 21. HIS BROTHER JOSEPH WAS ALSO KILLED. BOTH ARE LISTED ON ST CHARLES' CHURCH ROH.
PTE, JOSEPH WILLIAM ALLEN, 10TH EYR.

BORN HULL 1894. ELDEST OF SIX CHILDREN TO JOHN AND DINAH ALLEN, 13 WILLIAM'S TERRACE, WOODHOUSE STREET. JOE WAS A HAIRDRESSER BEFORE THE WAR. HE WAS A RENOWNED FLY HALF AND HAD TRIALS FOR HULL KINSTON ROVER. ONE OF THE FIRST TO ENLIST IN SEPTEMBER 1914. HE MARRIED ELEANOR ANN THOMPSON, ON THE 11/10/1914, BEFORE HE WENT AWAY FOR TRAINING. HE SAW ACTION IN EGYPT, ON THE SOMME AND AT OPPY WOOD. HE WAS AWARDED THE BELGIUM 'CROIX DE GUERRE' FOR GALLANTRY. HE WAS KILLED ON THE 12/4/1918, AGED 24. HIS BODY WAS NEVER FOUND.
PTE, JAMES WATSON, 1ST EYR.
KNOWN AS JERRY WATSON. HE WAS EMPLOYED BY MESSRS.BLUNDEL & SPENCE LTD, BEVERLEY ROAD. AN OUTSTANDING AMATEUR RUGBY LEAGUE PLAYER WHO PLAYED FOR THE WORKS TEAM WITH 'WILF' COLLEY. JERRY WAS DESCRIBED AS A "CENTRE THREE QUARTER OF GREAT PROMISE, BEING TRICKY AND SHARP ON HIS FEET". HE WAS A RESERVE IN THE YORKSHIRE V'S LANCASHIRE SOLDIER'S MATCH AND ALTHOUGH HE DID NOT PLAY, WAS AWARDED HIS COUNTY JERSEY. HIS LAST MATCH PLAYED FOR BLUNDELLS WAS AGAINST SISSONS IN THE 1913 ANNUAL CHARITY CUP. AND WATSON SCORED TWO TRIES. jERRY WATSON WAS ONE OF HULL'S FIRST CASUALTIES. KILLED IN ACTION ON THE 18/10/1914. HIS DEATH CAST A DARK GLOOM AT BLUNDEL'S AND WITHIN LOCAL RUGBY CIRCLES.

HIS DEATH AND PHOTOGRAPH WERE PRINTED IN THE HULL DAILY MAIL ON THE 14TH MAY 1915.
PTE, WILFRED COLLEY, 1/4TH EYR.
BORN HULL 1895. SON OF FRED & ROSE ELLEN , 46 WATERLOO STREET. HE WAS EMPLOYED BY MESSRS. BLUNDEL & SPENCE LTD, BEVERLEY ROAD. ANOTHER OUTSTANDING AMATEUR RUGBY LEAGUE PLAYER WHO PLAYED FOR THE WORKS TEAM WITH 'JERRY' WATSON. 'WILF' WAS DESCRIBED AS A "FORWARD OF ROBUST STYLE". IN THEIR LAST MATCH PLAYED FOR BLUNDELLS, AGAINST SISSONS IN THE 1913 ANNUAL CHARITY CUP, BOTH PLAYED BRILLIANTLY. WILF WAS KILLED IN ACTION AT YPRES, ON THE 3/5/1915, AGED 19.

HE IS LISTED ON THE JARRETT STREET ROH & CLIFTON STREET SCHOOL ROH's. HIS DEATH WAS REPORTED IN THE HULL DAILY MAIL, WITH HIS PHOTOGRAPH, ON THE 14TH MAY 1915.
GUNNER, REGINALD GREY, RGA. BORN CARDIFF 1887. ENLISTED HULL 26/8/16. SON OF H & M GREY - 13 FREEHOLD STREET, HULL.HIS WIFE MRS M GREY LIVED, 21 QUEENSGATE STREET. BEFORE THE WAR REGINALD WORKED FOR THE WILSON LINE. HE PROCEEDED TO THE FRONT ON 10TH JULY 1915. HE HAD JUST RETURNED FROM HOME LEAVE, FIVE WEEKS BEFORE HE WAS KILLED. HIS COMMANDING OFFICER DESCRIBED "HIS STERLING QUALITIES, EFFICIENT AND POPULAR WITH BOTH OFFICERS AND MEN, HE MADE A VERY GOOD NCO." HE IS LISTED ON THE WILSON LINE CRICKET & ATHLETIC CLUB'S ROH. HIS DEATH WAS REPORTED IN THE HULL DAILY MAIL WITH HIS PHOTOGRAPH ON 15TH MAY 1916.
PTE, FRANK THORNTON, RASC. BORN HULL 1889. SON OF WILLIAM CROSSLAND & ANNIE ELA THORNTON, 310 BEVERLEY ROAD. DIED OF INFLUENZA. ON SCULCOATES MEMORIAL. CLERK. LISTED ON THE WILSON LINE CRICKET & ATHLETIC CLUB'S ROH.
STEWARD, ALFRED MOORE, RNR. BORN GRIMSBY 1900. SON OF ELIZA EMMA & THE LATE JOHN MOORE, 1 ALEXANDER TERRACE, WYKE STREET, HULL. HE DROWNED WHEN THE STEAM SHIP 'WHORLTON' STRUCK A MINE, ON 1ST DECEMBER 1918. HE WAS 18 YEARS OLD. HE IS REMEMBERED ON THE WILSON LINE CRICKET & ATHLETIC CLUB'S ROLL OF HONOUR.
2ND LIEUT., GEORGE EDWIN QUIBELL, 4TH MIDDLESEX REGIMENT. 11 FITZROY STREET. BORN HULL 1897. ONLY ON OF EDWIN QUIBELL & SOPHIE ELIZABETH (SPRING). SISTERS ELEANOR & JOAN QUIBELL. HE WAS AN OLD HYMERIAN. PLAYED FOOTBALL FOR THE COLLEGE AND LATER OF THE CRANBROOK FOOTBALL CLUB, A SPRIGHTLY NEWLAND ORGANISATION WHO ALL ENLISTED TOGETHER AT THE START OF THE WAR. HE WAS ALSO AN EXCELLENT CRICKETER AND PLAYED FOR NORTH CAVE CC. FROM YOUTH HE WAS CLOSELY CONNECTED WITH THE NEWLAND CONGREGATIONAL CHURCH AND BECAME A SUNDAY SCHOOL TEACHER THERE. IN BUSINESS LIFE HE WAS ON THE STAFF OF MESSRS. LATUS & CO. HIS WINNING AND CHEERFUL PERSONALITY WON HIM MANY FRIENDS. GEORGE QUIBELL WAS PART OF THE EXPEDITIONARY FORCE TO EGYPT. HE WAS OFFICALLY REPORTED KILLED ON 26TH MARCH 1917. HIS FATHER EDWIN WAS MANAGING DIRECTOR OF LOCAL BUILDERS MESSRS, QUIBELL, SON & GREENWOOD LTD WHO BUILT THE HULL CENOTAPH. GEORGE'S DEATH WAS REPORTED IN THE HULL DAILY MAIL ON 5TH APRIL 1917, WITH HIS PHOTOGRAPH.
PTE, VICTOR HODSON, 4TH SCOTTISH RIFLES. BORN HULL 1/3/1896. SON OF JOHN ANDERSON & HARRIET E HODGSON & 4 SISTERS 20 WYCLIFFE ROAD, ARGYLL STREET. KILLED AT THE BATTLE OF LOOS ON 28/9/1915, AGED 19. LISTED ON THE WILSON LINE CRICKET & ATHLETIC CLUB'S ROH.
PTE, ARTHUR SAYNER YARDLEY, 1/4TH EYR.
BORN PATRINGTON 1899. SON OF ALFRED & JULIA YARDLEY, 20 ARGYLL TERRACE, ARGYLL STREET. KILLED IN ACTION ON 4/8/1818, AGED 19. LISTED ON THE WILSON LINE CRICKET & ATHLETIC CLUB'S ROH.
PTE, CHARLES HORSLEY, 2ND WEST YORKSHIRE REGIMENT.

BORN HULL 1899. CHARLES LAMBERT & FLORENCE HORSLEY, 360 HAWTHORNE AVENUE. KILLED IN ACTION AT POZIERES ON 12/3/1918, AGED 19. LISTED ON THE WILSON LINE CRICKET & ATHLETIC CLUB'S ROH.
PTE, ARTHUR FOWLER, 1/14TH LONDON (SCOTTISH) REGIMENT.
BORN HULL 1885. ENLISTED LAMBETH. LIVED HERNE HILL, SURREY. WORKED FOR MESSRS. MAW TILL & KIRKE CO, HULL. HE WAS A WELL KNOWN ATHLETE IN HULL AND HAD A REPUTATION AS A SUCCESSFUL BOWLER IN THE HULL THURSDAY CRICKET LEAGUE. HE WAS KILLED IN ACTION, ON 29/3/1918, AGED 33, AFTER A LONG STINT AT THE FRONT. HIS DEATH WAS REPORTED IN THE HULL DAILY MAIL ON 19TH APRIL 1918.
PTE, LEONARD YOUNG, 10TH EYR.

BORN HULL 1898. ELDEST SON OF WILLIAM & ANN MARY YOUNG, 1 DERWENT TERRACE, ALFONSO STREET, HULL. A CLERK FOR TMOMAS WILSON & SONS. ENLISTED IN THE 'HULL COMMERCIALS' ON 2/9/1914. DIED OF WOUNDS AT ARRAS, ON 25/6/1917, AGED 19. LISTED ON THE WILSON LINE CRICKET & ATHLETIC CLUB'S ROH. HIS DEATH WAS REPORTED IN THE HULL DAILY MAIL, ON THE 4TH JULY 1917, WITH HIS PHOTOGRAPH.
CPL, LEONARD WHITELAM, 12TH EYR. BORN HULL 1890. SON OF JOHN WILLIAM, ASC, & M J WHITELAM, 303 BOULEVARD. BEFORE ENLISTING HE WORKED AS A FISH & ICE MERCHANT. KILLED IN ACTION ON 9/11/17, AGED 28. LISTED ON THE

HULL GRAMMAR SCHOOL ROH AND

WILSON LINE CRICKET & ATHLETIC CLUB'S ROH.
CPL, PERCY EDWIN PLATT, RFA.

BORN HULL 1896. PARENTS WILLIAM ROBERT & MARY ANN PLATT & ELEVEN CHILDREN - FAIRVIEW AVENUE, HALCYON, HESSLE. HE WAS ONE OF SIX SONS SERVING. HIS BROTHER HAROLD BEING KILLED IN ACTION IN 1916. PERCY JOINED AT THE OUTBREAK OF WAR AND HAD BEEN IN FRANCE FOR TWO YEARS. HE LIVED AT 227 HOLDERNESS ROAD. WAS A MEMBER OF THE HESSLE OLD BOYS FOOTBALL CLUB AND THE HESSLE PRIMITIVE CRICKET CLUB. HE WAS AGED 21 WHEN KILLED IN ACTION. HIS DEATH WAS REPORTED IN THE HULL DAILY MAIL ON 5TH MAY 1917.
PTE, JOHN HENRY WRIGGLESWORTH, 1/4TH EYR.

BORN HULL 1892. SON OF JOHN HENRY & MARY WRIGGLESWORTH, 312 HAWTHORNE AVENUE. HE WAS A SINGLE MAN. EMPLOYED AS A MESSENGER FOR THE NORTH EASTERN RAILWAY LINE. HIS FATHER WAS A NER GUARD AND WELL KNOWN IN DAIRYCOATES AREA OF HULL. JOHN HAD ALREADY DONE FOUR YEARS IN THE TERRITORIALS AND WAS A GOOD SHOT. HE WAS SECREATRY OF THE NEWINGTON PARISH FOOTBALL CLUB AND MEMBER OF THE NER CRICKET TEAM AND RIFLE CLUB. HE WAS KILLED AT YPRES, ON 2/5/1915, AGED 23. HIS DEATH AND PHOTOGRAPH APPEAR IN THE HULL DAILY MAIL 14TH JUNE 1915.
CPL, CHARLES HUDDLESTONE, 2ND DURHAM LIGHT INFANTRY.

BORN BEVERLEY 2/5/1887. HE LIVED AT 7 CATHERINE GROVE, CARRINGTON STREET, HULL. FORMERLY 13/785 OF THE EYR & ORIGINAL HULL PAL. SERVED IN 'B CO, DLI. HE WAS KILLED ON 20/4/1918, AGED 31. HE IS LISTED ON THE WILSON LINE CRICKET & ATHLETIC CLUB'S ROH.
CPL, ARTHUR FREDERICK FARR, 1ST EYR.

BORN HULL 1880. ENLISTED BEVERLEY. SON OF ARTHUR FREDERICK ELLEN ELIZABETH FARR, 11 JANE'S PLACE, PORTER STREET, HULL. DIED OF WOUNDS ON THE4/5/16, AGED 35. LEFT HIS WIDOW ADA FARNHILL TO MOURNHIS LOSS.

LISTED ON THE WILSON LINE CRICKET & ATHLETIC CLUB'S ROH.
SGT, REGINALD JAMES CHESTER, 13TH EYR.
BORN HULL 1888. SON OF JAMES & ANNIE MARIA CHESTER, 81 MELROSE STREET, HULL. MARRIED 1913. WIFE GLADYS ENID THORLEY & THREE SMALL CHILDREN. HE WAS KILLED AT THE SOMME, ON 13/11/1916, AGED 28. LISTED ON THE WILSON LINE CRICKET & ATHLETIC CLUB'S ROH.
PTE, CHARLES ROWLAND INGHAM, 11TH EYR. BORN LEEDS 1887. CHARLES WAS THE YOUNGEST OF SIX CHILDREN TO STEPHEN AND EMMA INGHAM. BOTH PARENTS DIED YOUNG AND CHARLES SPENT MANY YEARS LIVING WITH HIS BROTHER, FIRST IN LEEDS WHERE HE WORKED AS A CLERK IN A CORN MILL, AND THEN IN HULL, WHERE HE RESIDED AT 5 BROOKSIDE VILLAS, GRANGE STREET. HE ENLISTED AT HULL CITY HALL ON THE 3/1/1915, ORIGINALLY IN THE 14TH EAST YORKSHIRE REGIMENT, BEFORE BEING TRANSFERRED TO THE 11TH EYR AFTER ARRIVING IN FRANCE ON THE 16/4/1916. HE RETURNED TO FRANCE ON THE 21/4/1917 ND A FORTNIGHT LATER WAS KILLED IN ACTION AS THE PALS ATTACKED OPPY WOOD ON THE 3/5/1917. HIS BODY WAS NEVER RECOVERED AND HE IS COMMEMORATED ON THE ARRAS MEMORIAL TO THE MISSING. HE WAS 30 YEARS OLD AND REMEMBERED FOR HIS SPORT ON THE WILSON LINE CRICKET AND ATHLETIC ROLL OF HONOUR.

PTE, REGINALD EDWARD SAUNBY, 1ST EYR.

BORN HULL 1894. HULL PAL. SON OF EDWARD S. & EMILY SAUNBY, 29 SANDRINGHAM STREET. PRIOR TO WAR, HE WORKED ON THE STAFF OF THE ELLERMAN - WILSON SHIPPING LINE. HE ENLISTED IN SEPTEMBER 1914. WAS WOUNDED IN JUNE 1916. TRAINED AS A LEWIS GUNNER FOR THE EYR. HE WAS KILLED IN ACTION ON THE 8/2/1918, AGED 24. HE IS LISTED ON THE WILSON LINE CRICKET & ATHLETIC CLUB'S ROH. HIS DEATH WAS REPORTED IN THE HULL DAILY MAIL ON 15TH FEBRUARY 1918, WITH HIS PHOTOGRAPH.
ENGINEER, THOMAS SHERBURN WRIGHT, STEAM TRAWLER 'CELIA'.
BORN 1893. HIS MOTHER LIVED AT 60 MARMADUKE STREET, HESSLE ROAD HE WAS LOST AT SEA ON THE 8/1/1915, AGED 21. HIS DEATH WAS REPORTED IN THE HULL TIMES ON 6/2/15, WITH HIS PHOTOGRAPH. LISTED ON THE EDGAR STREET SHRINE. LISTED ON THE WILSON LINE CRICKET & ATHLETIC CLUB'S ROH.
PTE, FREDERICK MARTIN RAINE, NORTHUMBERLAND FUSILIERS.
BORN HULL 1899. SON OF HENRY & RACHEL ANN RAINE - 120 CLUMBER STREET. HE DIED AT HOME ON THE 22/5/1918, AGED 18, AND IS BURIED IN HULL WESTERN CEMETERY. HE IS REMEMBERED ON THE WILSON LINE CRICKET & ATHLETIC CLUB'S ROH.
PTE, THOMAS MOXON, 9TH YORK & LANCASHIRE REGIMENT.
BORN HULL 1889. SON OF JOSEPH MOXON & ANN ELIZABETH (HOMER) - 20 CHURCH STREET, DRYPOOL. WIFE GERTIE (NODEN) AT 10 LYNTON AVENUE, PERTH STREET, HULL. BEFORE THE WAR HE WORKED AS A MOULDER FOR MESSRS BOYD'S, HOLDERNESS ROAD. HE WAS A KEEN FOOTBALLER, CRICKETER AND SCOUT MASTER. HIS FATHER WAS WELL KNOWN WITH THE KEEL INDUSTRY AND THE FAMILY WERE ACTIVE MEMBERS OFST PETERS CHURCH. REJECTED AT THE START OF THE WAR DUE HIS SMALL STATURE, THOMAS MOXON WAS THE FIRST TO JOIN THE BANTAMS. HE SERVED IN EGYPT, FRANCE AND WAS WOUNDED ON THE SOMME. AFTER HIS RECOVERY HE WAS TRANSFERRED TO THE YORK & LANCS. REGIMENT. HE WAS THEN AGAIN SEVERELEY WOUNDED IN THE THIGH AND LEG AND DIED OF WOUNDS ON 10TH APRIL 1917. HIS DEATH WAS REPORTED IN THE HULL DAILY MAIL ON THE 21ST APRIL 1917, WITH HIS PHOTOGRAPH. HE WAS 28 YEARS OLD.
PTE, GODFREY WILCOCKSON, 1ST EYR.
BORN HULL 1894. ONLY SON OF JOHN & ADA WILCOCKSON, 46 BERKELEY STREET, HULL. HE ENLISTED IN THE HULL PALS AT THE OUTBREAK OF WAR AND WAS KILLED IN ACTION ON THE 25/04/1918, AGED 24. HE IS LISTED ON HYMERS COLLEGE MEMORIAL AND ON THE WILSON LINE CRICKET & ATHLETIC CLUB'S ROLL OF HONOUR.
CPL, SYDNEY WADE, 17TH NORTHUMBERLAND FUSILIERS.

BORN HEDON 1891. SON OF FRED & HELEN WADE. HE MARRIED JULY 1914 AND JOINED THE RAILWAY PALS WHEN WAR BEGAN. PRIOR TO WAR HE WAS A NER JOINER IN HULL. HE HAD SERVED IN THE 5TH EYR CYCLISTS FOR FOUR YEARS AS A TERRITORIAL. HE WAS A WELL KNOWN AMATEUR FOOTBALLER AND CRICKETER. HE WAS SHOT IN THE ARM AND CHEST AND DIED OF WOUNDS. ON 5/2/1916, AGED 26. HIS OFFICER DESCRIBED HIM TO HIS WIFE AMY WADE AS "ONE OF THE FINEST CHARACTERS I HAVE KNOWN AND IT HAS BEEN AN HONOUR TO HAVE SUCH A MAN SERVE WITH ME." HIS DEATH WAS REPORTED IN THE HULL DAILY MAIL ON 17TH FEBRUARY 1916 WITH HIS PHOTOGRAPH.
PTE, GEORGE ARTHUR WELLS, 10TH EYR.
Hull Pals Memorial Post: Born Hull, in 1892, George was the eldest of two children and only son of George and Asenath Wells of 13 Lowther Street, Albert Ave, Hull. Educated at St. George's Road Council School he gained a scholarship to The Boulevard Secondary School. On leaving school he went to work as a Clerk in the offices of Mssrs Dumoulin & Gosschalk Merchants and was a keen sportsman playing cricket for Newington Parish Church Team.
When war came George enlisted at Hull City Hall, joining the 10th Battalion East Yorkshire Regiment, 'The Commercials', 1st Hull Pals. He trained throughout 1915 at barracks in Hornsea, Beverley and Ripon before sailing to Alexandria, Egypt that December. The Pals were charged with protecting the Suez Canal from potential attack by the Turks, and spent the winter of 1915-16 in the desert.
Everything changed in late February when they left Port Said for Marseilles and headed north for the trenches of the Western Front. George was killed in action on 30th March 1916 and is buried in Auchonvillers Military Cemetery; he was 24 years old.
Private Tait recorded the incident:
"…being our first time under fire many of us are in no joking mood. Directly we enter trenches we see Wells of C Company being carried out dead. This upsets us a great deal, as he is a terrible sight."
PTE, HAROLD MARSHALL, 9TH WEST YORKS REGIMENT.

BORN HULL 1888. ENLISTED NORWICH. DIED OF WOUNDS GALLIPOLI, ON 20/11/1915, AGED 27. SON OF ALFRED & EMMA MARSHALL, 96 ST GEORGES ROAD. HE LIVED AT 11 STRICKLAND TERRACE, STRICKLAND STREET. BEFORE THE WAR HAROLD WAS A LAWYER'S ASSISTANT. HE WAS WELL KNOWN IN FOOTBALL CIRCLES BEING A GOALKEEPER FOR RANGERS THURSDAY AFC. HIS DEATH WAS REPORTED IN THE HULL DAILY MAIL WITH HIS PHOTOGRAPH ON 25TH FEBRUARY 1916.
2ND LIEUT., HARRY PERCIVAL ROBINSON, RAF,
BORN HULL 1900. SON OF PERCIVAL & SARAH ROBINSON - 47 WYNDHAM STREET. HE ENLISTED IN SEPTEMBER 1917 AND RECEIVED A COMMISSION FOUR AND A HALF MONTHS LATER. PRIOR TO JOINING HE WORKED FOR THE ELLERMAN, WILSON SHIPPING LINE. HE HAD RECEIVED HIS 'WINGS' ONLY THREE WEEKS BEFORE AND WAS KILLED IN AN AEROPLANE ACCIDENT. HE WOULD HAVE BEEN 19 YEARS OLD IN AUGUST. HARRY ROBINSON IS LISTED ON THE WILSON LINE CRICKET & ATHLETIC CLUB'S ROH. HIS DEATH WAS REPORTED IN THE HULL DAILY MAIL ON 28TH JUNE 1918, WITH HIS PHOTOGRAPH. HE IS BURIED IN HULL WESTERN CEMETERY.
PTE, JOHN WILLIAM MANDERVILLE, 10TH ROYAL FUSILIERS.

BORN HULL 1893. SON OF JOHN JAMES & EMILY (WILKINSON) MANDEVILLE - 5 STANLEY STREET. HE MARRIED EVERLYN (TAYLOR) IN 1919 BEFORE HE DIED. BEFORE THE WAR HE WAS A SHIPPING CLERK. HE DIED AT HOME, ON 30/1/1919, AGED 26. HE IS REMEMBERED ON THE WILSON LINE CRICKET & ATHLETIC CLUB'S ROH.
PTE, FRANK HERBERT JOHNSON, 10TH EYR.
BORN HULL 1893. SON OF WALTER HERBERT & BELLA JOHNSON 156 ALLIANCE AVENUE. HE JOINED THE HULL PALS IN SEPTEMBER 1914. HE WAS KILLED IN ACTION ON 12/4/1918, AGED 25. A KEEN SPORTSMAN HE WAS LISTED ON THE WILSON LINE CRICKET & ATHLETIC CLUBS ROH.
PTE, GEORGE FALKINGHAM LACEY, 1ST EYR.

BORN HULL 1896. HULL PAL. SON OF GEORGE WILLIAM & FRANCIS ELLIE LACEY, ANLABY ROAD. KILLED IN ACTION ON 18/10/18, DAYS BEFORE THE WAR ENDED. LISTED ON THE WILSON LINE CRICKET & ATHLETIC CLUB'S ROH. HIS DEATH WAS REPORTED IN THE HULL DAILY MAIL ON 25TH MAY 1918.
PTE, ARTHUR JOHN HOLFORD, 2/6TH NOTTS & DERBY REGIMENT.
BORN HULL 1898. SON OF JOHN & ALICE HOLFORD AT 6 VENTNOR STREET, NEWLAND AVENUE. HE WAS KILLED IN ACTION AT ARRAS, ON 21/3/1918, AGED 20. HE IS LISTED ON THE WILSON LINE CRICKET & ATHLETIC CLUB'S ROH.
PTE, LESLIE CHARLES GAMBLE, 2/6TH NOTTS & DERBY REGIMENT.
BORN HULL 1898. SON OF HENRY CHARLES (MERCHANT SEAMAN) & BEATRICE GAMBLE - 17 ALL SAINTS STREET , HULL. HE LIVED AT 73 DUESBURY STREET. HE WAS KILLED ON THE 27/4/1917, AGED 19. HIS BODY WAS NEVER RECOVERED AND HE IS RECORDED ON THE THIEPVAL MEMORIAL TO THE MISSING. IN HULL HE IS RECORDED ON THE HULL GRAMMAR SCHOOL MEMORIAL AND ON THE WILSON LINE CRICKET & ATHLETIC CLUB'S ROH
2ND LIEUT., FRANK ILLINGWORTH, 2ND EYR. HE WORKED IN HULL AS A CLERK AND LIVED AT 8 VENTOR STREET, NEWLAND AVENUE, HULL. HE DIED IN GREECE, ON 15/12/1916, AGED 23. A KEEN SPORTSMAN HE WAS REMEMBERED

ON THE WILSON LINE CRICKET & ATHLETIC CLUB'S ROH.
PTE, DENNIS CECIL DAVIS, 4TH EYR.

BORN READING 1893. SON OF JOHN JAMES MOORE & AMELIA JANE DAVIS, 17 BLENHEIM STREET. HE DIED OF WOUNDS ON THE 25/2/1917, AGED 25. HE IS RECORDED ON THE WILSON LINE CRICKET & ATHLETIC CLUB'S ROH.
PTE, EDWARD REUBEN DUNLEY, 20TH DURHAM LIGHT INFANTRY.
BORN HULL 1900. ENLISTED HULL. MOTHER BEATRICE & SISTERS MINNIE, EMILY & ETHEL LIVED AT 4 SOMERSCALES STREET. HE DIED ON 5/10/18, JUST WEEKS BEFORE THE WAR ENDED, AGED 18. HE IS LISTED ON THE WILSON LINE CRICKET & ATHLETIC CLUB'S ROH.
PTE, GEORGE BLENKIN, 10TH EYR.
BORN HULL 1897. ANOTHER HULL PAL. THE ONLY CHILD OF HARRY BLENKIN & MARIA (HUDSON) AT 47 SEATON STREET, HULL. THEIR OTHER CHILDREN WILFRED & HILDA DIED IN INFANCY. HE WAS KILLED ON THE 26/6/1916, AGED 20 AND WAS LISTED ON THE WILSON LINE CRICKET & ATHLETIC CLUB'S ROH.
CPL, WALTER CYRIL BILLINGTON, 11TH EAST LANCS.
BORN HULL 1894. SON OF WALTER & KATE BILLINGTON, 2 ELM VILLAS, BRAZIL STREET. HE ENLISTED IN THE HULL PALS AND WAS LATER TRANSFERRED TO THE ACCRINGTON PALS. HE WAS KILLED AT SERRE ON THE 2/7/1916, AGED 26. LISTED ON THE WILSON LINE CRICKET & ATHLETIC CLUB'S ROH.
PTE, FREDERICK WALTON, 10TH EYR.

BORN HULL 1892. SON OF SUSAN AND JOHN HENRY WALTON, 7 CORNWALL GARDENS, BRUNSWICK AVENUE. HE ENLISTED IN THE HULL PALS, SEPTEMBER 1914. HE WORKED FOR THE WILSON LINE SINCE LEAVING SCHOOL. HE WAS KILLED AT ARRAS, ON THE 8/3/1917, AGED 25. HE WAS

LISTED ON THE WILSON LINE CRICKET & ATHLETIC CLUB'S ROH. HIS DEATH WAS REPORTED IN THE HULL DAILY MAIL ON 3RD APRIL 1917, WITH HIS PHOTOGRAPH.
PTE, ARTHUR RICHARD DANNATT, 1/4TH EYR.
BORN HULL 11/10/1887. SON OF ALBERT & MARY JANE DANNATT - 68 YORK STREET, HULL. HE WAS A FORMER SISSONS WORKER, AT STONEFERRY & KEEN RUGBY PLAYER. ONE OF SIX SONS TO ENLIST. HIS BROTHER JOHN WILLIAM DANNATT WAS A RUGBY LEAGUE FORWARD FOR HULL KINGSTON ROVERS. ARTHUR MARRIED AMY ESTHER IN 1913 & HAD TWO CHILDREN WHO LIVED AT 33 CUMBERLAND STREET. HE NEVER SAW ONE OF HIS CHILDREN WHO WAS ONLY EIGHT MONTHS OLD. HE WAS KILLED IN ACTION AT THE SOMME ON 24/9/1916, AGED 29. HIS DEATH WAS RECORDED ON THE KINGS HALL CHURCH ROH, SYMONST STREET. HIS DEATH WAS ALSO REPORTED IN THE HULL DAILY MAIL ON THE 16TH NOVEMBER 1916, WITH HIS PHOTOGRAPH.
PTE, JOHN RICHARD DEAN, 34TH AUSTRALIANS.

BORN HULL 1895. SON OF JOHN & JANE E. DEAN, HULL. KNOWN AS 'JACK'. HE LIVED AT 6 SCOTT'S SQUARE, HUMBER STREET. HE WAS BROTHER OF TOM & MARY AKA 'MADGE OF THE OLD TOWN', HULL. IN 1901 HE LEFT FOR AUSTRALIA. HE WAS PRESENTED WITH TWO GOLD MEDALS FOR LIFE SAVING. ONE FROM THE TOWN OF CARRINGTON AND PREVIOUSLY AWARDED THE ROYAL HUMANE SOCIETY MEDAL IN HULL. HIS BROTHER SGT T DAN, RGA, WON THE MILITARY MEDAL 18 MONTHS BEFORE AND WAS WELL KNOWN IN SWIMMING AND ANGLING CIRCLES. JOHN'S DEATH WAS REPORTED IN THE HULL DAILY MAIL ON 26TH DECEMBER 1917, WITH HIS PHOTOGRAPH.
LIEUT., GRENVILLE WYNN THOMAS, 2/4TH GURKHA RIFLES.

BORN LIVERPOOL 1897. ELDEST SON OF THE REVEREND LLEWELYN WYNN & HELEN PENELOPE THOMAS, THE NEWLAND VICARAGE AND WAVETREE, LANCS. HULL HE WAS EDUCATED AT OXFORD PREPARATORY SCHOOL AND OBTAINED A SCHOLARSHIP AT ROSSALL. HE CAPTAINED THE SCHOOL FOOTBALL, HOCKEY AND SWIMMING TEAMS. HE WAS THE QMS IN THE SCHOOL CADETS. IN APRIL 1915 HE SAILED TO INDIA. WAS COMMISSIONED SIX MONTHS LATER IN THE 2/4TH GURKHA RIFLES AFTER SERVING ON THE NORTH WEST FRONTIER HE WAS POSTED TO MESOPOTAMIA. HE SERVED AT KUT WAS WOUNDED AND INVALIDED BACK TO INDIA AND THEN PALESTINE HIS DEATH WAS REPORTED IN THE HULL DAILY MAIL ON 22ND MARCH 1918, WITH HIS PHOTOGRAPH.

HIS BROTHER ERIC THOMAS WAS KILLED IN FRANCE IN DECEMBER 1917.
GUNNER, THOMAS PRICE, RGA 146TH HULLY HEAVY BATTERY.
BORN HULL 1881. SON OF ALFRED E & HARRIET PRICE. WIFE MARY PRICE LIVED 22 COLERIDGE STREET, HULL. HE WAS A HULL POST OFFICE WORKER, JOINING AS A TELEGRAM LAD AT THE AGE OF 13 AND WAS HELD IN HIGH ESTEEM. HE WAS ALSO WELL KNOWN IN SWIMMING CIRCLES, BEING AN INSTRUCTOR AT ST JAMES SWIMMING CLUB. HE DIED OF WOUNDS AT ROUEN HOSPITAL ON THE 11/10/1916, AGED 35. HIS DEATH WAS REPORTED IN THE HDM ON 17/10/16, WITH A PHOTOGRAPH OF THOMAS AND HIS BROTHER GEORGE, A PAINTER, WHO HAD ALREADY BEEN WOUNDED TWICE WITH THE EYR AND LIVED AT 2 BOTANIC AVENUE, CONVENT LANE.
PTE, JOSEPH WILLIAM ALLEN, CDG, 10TH WYR. BORN HULL 1894. A HAIRDRESSER BY TRADE. HE MARRIED ELEANOR ANN ALLEN ON THE 11/10/1914, BEFORE LEAVING FOR TRAINING. THEY LIVED AT 11 FLORENCE TERRCE, WATERLOO STREET. A KEEN SPORTSMAN, JOE HAD TRIALS FOR HULL KINGSTON ROVERS. HE

ENLISTED IN THE HULL PALS AND WAS AWARDED THE

CROIX DE GUERRE (BELGIUM) FOR BRAVERY. HE DIED OF WOUNDS ON THE 12/4/1918 AGED 24.
PTE, LEONARD FREDERICK INSTONE, 3RD COLDSTREAM GUARDS.
BORN MADRAS, INDIA 1898. SON OF CSM LOUIS INSTONE, KOYLI, & CONSTANCE INSTONE - 16 TORRINGTON STREET. BOTH FATHER AND SON WERE KILLED IN ACTION. A FORMER NEWLAND AVENUE SCHOOL PUPIL. IN 1911 LEONARD INSTONE WAS HULL'S JUNIOR SWIMMING CHAMPION AND ALSO IN THE TEAM WHICH WON THE SCHOOL'S CHAMPIONSHIP SHIELD. HE WAS REPORTED WOUNDED WITH HIS PHOTOGRAPH N THE HULL DAILY MAIL ON 15TH SEPTEMBER 1914. HE DIED OF WOUNDS ON 1/5/1915. HE WAS ONLY 17 YEARS OLD.
A Global War
We now call it the First World War or World War One. Contemporaries certainly thought it was a world war and called it that. The term "World War" (Weltkrieg) first appeared in Germany in 1914. The French and British referred to the war as "La Grande Guerre" or the "Great War", but also adopted the term "World War" later in the conflict.
The Germans, seeing themselves pitted against the global empires of Britain and France, felt the world was against them from the outset. From their perspective, the war was of such magnitude that it created a sense of the whole world collapsing - the term World War expressed the scale of fear the conflict unleashed.
After 1945, historians found the term "First World War" appropriate because they saw 1914-1918 as the first of a particular type of international conflict - the world's first industrialised "total" war - which had been followed by a second industrialised world war of this kind - 1939-1945.
There are certainly arguments that can be made, however, that the titles "First World War" and "World War One" are misleading. The Seven Years War, the mid-18th Century battle for supremacy among Europe's great powers, and the Napoleonic Wars were also fought across the globe, on multiple continents causing severe disruption to global trade. Moreover, if measured in comparison to World War Two, which saw widespread fighting in China, South-East Asia and the Pacific, then 1914-1918 looks more like a European conflict - the key fronts that would decide the outcome of the war were all in Europe. However, the war was clearly global in reach, whether it was the first to be so or not. In 1914, the key belligerent states brought their empires automatically into war with them. Together the British and French empires spanned much of the globe, including almost all of Africa and Australasia; the Russian land-based empire reached from Siberia in the North to the Caucasus and to Vladivostok in the East. Japan went to war on the side of the Allies in 1914, invading German colonial territory in China. The entry of the Ottoman Empire into the war brought its colonial possessions in the Middle East, from Iraq to Palestine into the conflict. When, later in the war, the United States and also Brazil entered on the side of the Allied powers, joining Canada and Newfoundland which were already at war as part of the British Empire, then the war truly spanned the global continents.
While none of the war's land battles occurred in the Americas, which some historians have claimed meant that World War One was not as global as the Seven Years war or the Napoleonic Wars (if you include the Anglo-American 1812 conflict), this is to ignore the First World War at sea, which saw engagements off the Coronel and Falkland Islands, as well as the war's disruption of American shipping across the Atlantic.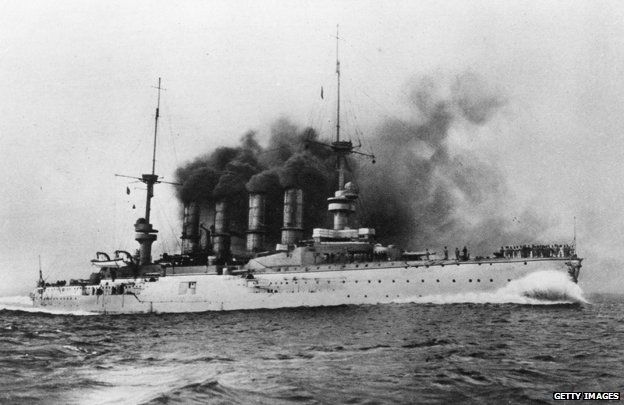 German armoured cruiser SMS Scharnhorst was sunk by the British in action off the Falkland Islands
And even if there was no front in the Americas, there was fighting almost everywhere else. The opening shot by a member of the British forces in 1914 was fired not in Europe, but in Africa, by a soldier named Alhaji Grunshi serving with the British as they attacked the German colony of Togoland.
The Western Front, which cut through Belgium and Northern France, is well known, reaching, for much of the war, from Dunkirk in the north to Belfort on the Swiss border in the south. But much of the rest of Europe also became a war zone. The Eastern Front, which stretched from the Baltics in the north to the borders of Austria-Hungary in the south - with much fighting in what is now modern day Poland, Hungary and Romania - covered a vast swathe of territory; Serbia was harshly occupied. Italy fought on a front that cut across its north eastern border and through the Dolomite mountains, with cities such as Venice threatened by aerial bombardment. Russia fought the Ottoman Empire in a terrible and bloody front that stretched across the Caucasus. As the warring parties sought to break the deadlock the conflict spread even further. The British opened fronts in Gallipoli, at the Dardanelles straits; in Mesopotamia - what is now modern-day Iraq - where after a series of setbacks they ultimately captured Baghdad; and in Palestine, where they fought up from Egypt to capture Jerusalem. In the South Pacific, the Australians fought to capture a series of German colonial island territories, including New Guinea which Australia then occupied for the rest of the war. There was fighting in 1914, as the Japanese captured the German territory of Tsing-tau. In Africa, the Allies (principally Britain, France, Belgium and South Africa) fought to take over the four main German colonies there - German South-West Africa (now Namibia); German East Africa (now Tanzania); the German Cameroons and Togoland (modern-day Togo). Not all of the above fronts existed for the whole of the war, but their span is truly remarkable. An estimated two million Africans served in World War One as soldiers or labourers.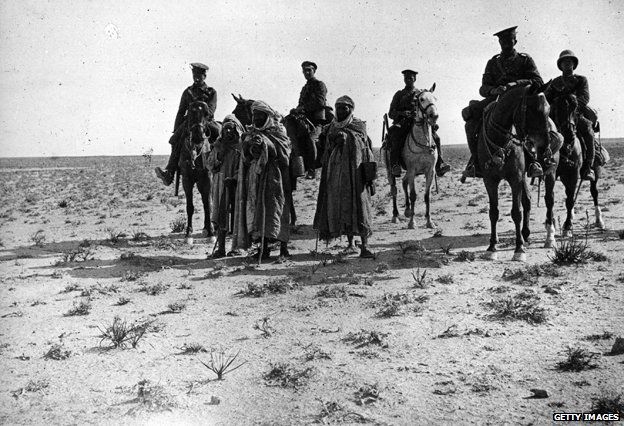 Moreover, beyond each front there was a massive hinterland where normal life was disrupted. Whole agricultural economies were ruined. Civilians starved or fled. In Africa, all of the armies used porters - locals used to carry the soldiers' food and munitions during the campaign, who were often coerced and who endured terrible conditions and high death rates. The war also gave rise to epic refugee flows in much of Eastern Europe, particularly in Russia, a process aggravated even further by the outbreak of revolution there in 1917. The war saw severe treatment of minorities. In particular, Tsarist Russia persecuted its Jewish population and the Ottoman Empire deliberately destroyed its Armenian minority through massacre and deportation.
World War One was also global in terms of the range of ethnicities and nationalities mobilised to fight. The British mobilised more than a million Indian men for the war. They made up one third of the British army on the Western Front in 1914 - but also fought in East Africa and in Mesopotamia. The French, meanwhile, brought men to Europe from overseas, including Indochina, Madagascar, Senegal, Algeria and Tunisia. The Germans too mobilised black colonial troops but only for use in Africa - Germany believed using non-white troops in Europe was a dangerous breach of colonial racial hierarchies.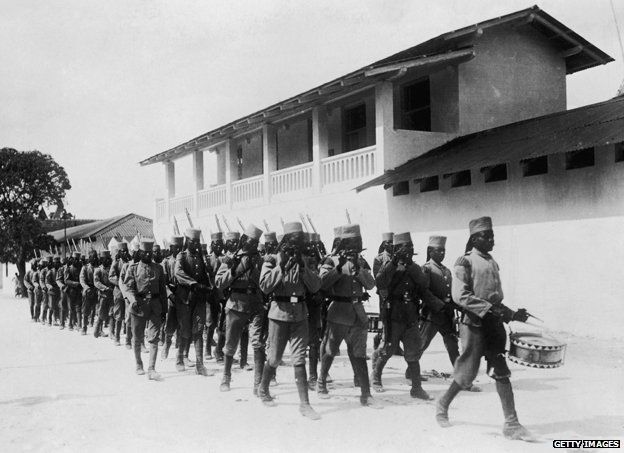 Along with fighting men, the British and French also recruited colonial labour on a massive scale, to work on the Western front and in other war theatres. Britain used black South Africans, Egyptians and even military volunteers from the West Indies. Both Britain and France also conducted an enormous recruitment campaign in China bringing some 135,000 Chinese labourers to Europe to do war work. Colonial labourers often found themselves close to the front lines, under fire.
If we measure the war in terms of its ideological effects it was clearly global. The war's economic legacy changed the world as the capital of finance shifted during the conflict from London to New York and, with vast swathes of European agriculture ruined, Argentina and Canada greatly increased their market share as food suppliers.
Global attitudes were also changed. The Japanese called for a clause on the equality of all races to be inserted into the League of Nations covenant after the war - they were unsuccessful, but the idea revealed changing mindsets. The first Pan-African Congress, held in Paris in 1919, advocated that African peoples should govern themselves. The war's legacy was new global ideas about the right of peoples to self-determination and the need for a global system of international co-operation, which was embodied in the League of Nations. It was a war that utterly altered the world and in this regard, in the sheer scale of the changes it brought, it was certainly a first.
The Campaigns
More than 60 million soldiers fought in the armies of the different combatant nations. The total number of deaths includes about 10 million military personnel and about 7 million civilians. The Allies lost about 6 million military personnel while the Central Powers lost about 4 million. At least 2 million died from diseases and 6 million went missing, presumed dead. As well as killing 17 million people, the Great War caused another 21 million wounded. Even today communities around the world are still scarred by their legacy of World War One.
The Middle East Campaign
Main article -http://en.wikipedia.org/wiki/Middle_Eastern_theatre_of_World_War_I
The Middle Eastern theatre of World War I saw action between 29 October 1914 and 30 October 1918. The combatants were on the one hand, the Ottoman Empire (including Kurds, Persians and some Arab tribes), with some assistance from the other Central Powers, and on the other hand, the British (with the help of the Jews and the majority of the Arabs) and the Russians (with the aid of the Armenians and some Assyrian tribes) from the Allies of World War I. There were five main campaigns: the Sinai and Palestine Campaign, the Mesopotamian Campaign, the Caucasus Campaign, the Persian Campaign, and the Gallipoli Campaign. There were also several minor campaigns: the North African Campaign, Arab Campaign, and South Arabia Campaign.
Allied military losses are placed between 1,000,000 and 1,500,000 which include those killed, wounded, captured or missing. Against this, total Ottoman losses are recorded as being almost as high as 25% of the population, which equates to approximately 5 million out of population of 21 million. Among the 5 million killed, only 771,844 were military casualties, killed in action or who died from other causes. Military casualties therefore only represent 15% of the total casualties, while 85% – slightly more than 4,000,000 (from all millets) – remain unaccounted for. Ottoman statistics analyzed by a Turkish professor, Kamer Kasim from Manchester University, claim that the cumulative percentage was actually 26.9% (1.9% higher than the 25% reported by Western sources) of the population, which stands out among the countries that took part in World War I. This increase of 1.9% is significant, representing a further 399,000 civilians in the total number. Also, one third of the population died in the largely forgotten famine of Mount Lebanon. A devastating confluence of political and environmental factors lead to the deaths of 200,000 men, women and children in the region.
Serbian Campaign
Main article: Serbian Campaign (World War I)
Austria invaded and fought the Serbian army at the Battle of Cer and Battle of Kolubara beginning on 12 August. Over the next two weeks, Austrian attacks were thrown back with heavy losses, which marked the first major Allied victories of the war and dashed Austro-Hungarian hopes of a swift victory. As a result, Austria had to keep sizable forces on the Serbian front, weakening its efforts against Russia. Serbia's defeat of the Austro-Hungarian invasion of 1914 counts among the major upset victories of the last century. However, Serbia's losses were enormous. It lost more than 1,100,000 inhabitants during the war (both army and civilian losses), which represented over 27% of its overall population and 60% of its male population. According to estimates by the Yugoslav government (1924) Serbia had lost 265,164 soldiers, or 25% of all mobilized people. By comparison, France lost 16.8%, Germany 15.4%, Russia 11.5%, and Italy 10.3%.
German forces in Belgium and France
At the outbreak of World War I, 80% of the German army (consisting in the West of seven field armies) was deployed in the west according to the plan Aufmarsch II West. However, they were then assigned the operation of the retired deployment plan Aufmarsch I West, also known as the 'Schlieffen Plan'. This would march German armies through northern Belgium and into France, in an attempt to encircle the French army and then breach the 'second defensive area' of the fortresses of Verdun and Paris and the Marne river.

Aufmarsch I West was one of four deployment plans available to the German General Staff in 1914, each plan favouring but not specifying a certain operation that was well-known to the officers expected to carry it out under their own initiative with minimal oversight. Aufmarsch I West, designed for a one-front war with France, had been retired once it became clear that it was irrelevant to the wars Germany could expect to face; both Russia and Britain were expected to help France and there was no possibility of Italian nor Austro-Hungarian troops being available for operations against France. But despite its unsuitability, and the availability of more sensible and decisive options, it retained a certain allure that the other plans due to its offensive nature and the 'cult of the offensive' that held great sway over much pre-war thinking. Accordingly, the Aufmarsch II West deployment was repurposed to initiate the 'Schlieffen Plan' offensive despite the negligible chances of its then-unrealistic goals and the insufficient forces Germany had available.

The plan called for the right flank of the German advance to bypass the French armies (which were concentrated on the Franco-German border, leaving the Belgian border without significant French forces) and move south to Paris. Initially the Germans were successful, particularly in the Battle of the Frontiers (14–24 August). By 12 September, the French, with assistance from the British forces, halted the German advance east of Paris at the First Battle of the Marne (5–12 September), and pushed the German forces back some 50 km (31 mi). The last days of this battle signified the end of mobile warfarein the west. The French offensive into Southern Alsace, launched on 20 August with the Battle of Mulhouse, had limited success.
In the east, the Russians invaded with two armies. In response, Germany rapidly moved the 8th field army, from its previous role as reserve for the invasion of France, to East Prussia by rail across the German Empire. This army, led by general Paul von Hindenburg defeated Russia in a series of battles collectively known as the First Battle of Tannenberg (17 August – 2 September). While the Russian invasion failed, it cause the diversion of German troops to the east, allowing the tactical Allied victory at the First Battle of the Marne. This meant that Germany failed to achieve its objective of avoiding a long-two front war. However, the German army had fought its way into a good defensive position inside France and effectively halved France's supply of coal. It had also killed or permanently crippled 230,000 more French and British troops than it itself had lost. Despite this, communications problems and questionable command decisions cost Germany the chance of a more decisive outcome.
Asia and the Pacific
New Zealand occupied German Samoa (later Western Samoa) on 30 August 1914. On 11 September, the Australian Naval and Military Expeditionary Force landed on the island of Neu Pommern (later New Britain), which formed part of German New Guinea. On 28 October, the German cruiser SMS Emden sank the Russian cruiser Zhemchug in the Battle of Penang. Japan seized Germany's Micronesian colonies and, after the Siege of Tsingtao, the German coaling port of Qingdao on the ChineseShandong peninsula. As Vienna refused to withdraw the Austro-Hungarian cruiser SMS Kaiserin Elisabeth from Tsingtao, Japan declared war not only on Germany, but also on Austria-Hungary; the ship participated in the defense of Tsingtao where it was sunk in November 1914. Within a few months, the Allied forces had seized all the German territories in the Pacific; only isolated commerce raiders and a few holdouts in New Guinea remained.

Some of the first clashes of the war involved British, French, and German colonial forces in Africa. On 6–7 August, French and British troops invaded the German protectorate of Togoland and Kamerun.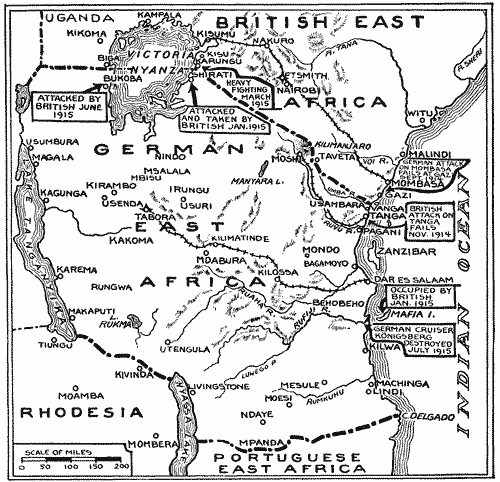 On 10 August, German forces in South-West Africa attacked South Africa; sporadic and fierce fighting continued for the rest of the war. The German colonial forces in German East Africa, led by Colonel Paul von Lettow-Vorbeck, fought a guerrilla warfare campaign during World War I and only surrendered two weeks after the armistice took effect in Europe.

After the war former German colonies were divided between the Allied powers and this ended Europe's 'scramble for Africa'. The African campaighns caused an estimate of 350,000 casualties and a death rate of 1:7 people. African found on all sides and were largely coerced into being carriers and porters. They were rarely paid and food and cattle were stolen from civilians. A famine caused by the consequent food shortage and poor rains in 1917, led to another 300,000 civilian deaths in Ruanda, Urundi and German East Africa. The impressment of farm labour in British East Africa, the failure of the rains at the end of 1917 and early 1918, also led to famine. In September 1918, Spanish flu reached sub-Saharan Africa. In British East Africa 160,000–200,000 people died, in South Africa there were 250,000–350,000 deaths and in German East Africa 10–20 % of the population died of famine and disease. In sub-Saharan Africa, between 1,500,000–2,000,000 people died in the epidemic.
Kenya's forgotten Heroes - http://www.bbc.co.uk/news/world-africa-28836752
Why was the first German Defeat in WW1 in Africa - http://www.bbc.co.uk/guides/zck9kqt
The African soldiers dragged into a Europe's war - http://www.bbc.co.uk/news/magazine-33329661
Contrary to British fears of a revolt in India, the outbreak of the war saw an unprecedented outpouring of loyalty and goodwill towards Britain. Indian political leaders from the Indian National Congress and other groups were eager to support the British war effort, since they believed that strong support for the war effort would further the cause of Indian Home Rule. The Indian Army in fact outnumbered the British Army at the beginning of the war. About 1.3 million Indian soldiers and labourers served in Europe, Africa, and the Middle East, while the central government and the princely states sent large supplies of food, money, and ammunition. The Indian Army included 800,000 Hindus and 400,000 Muslim soldiers. Over 130,000 Sikh men also served in the war and Sikhs made up 20% of the British Indian Army in action, despite being just 1% of the Indian population at the time. In all, 140,000 men from the Indian Army served on the Western Front and nearly 700,000 in the Middle East. Casualties of Indian soldiers totalled 47,746 killed and 65,126 wounded during World War I. Eight Victoria Cross were awarded to Indian Troops, the first of which was to Khudadad Khan, VC, a Muslim soldier, on the 31st October 1914. The suffering engendered by the war, as well as the failure of the British government to grant self-government to India after the end of hostilities, bred disillusionment and fuelled the campaign for full independence that would be led by Mohandas Karamchand Gandhi and others.
Why the Indian soldiers of WW1 were forgotten - http://www.bbc.co.uk/news/magazine-33317368
The War at Sea
The 'Sea Front' was a global war that lasted the longest. More than two weeks before the first British soldier was killed, some 130 souls were lost on HMS Amphion when it was sunk in the North Sea. The European war was barely 30 hours old. The North Sea was the main theater of the war for surface action. Although safeguarding the English Channel was vital to protect the British Expeditionary Force. The German U-boat campaign in the Atlantic sank much of British merchant shipping causing shortages of food and other necessities. Naval combat also took place in the Meditteranean, the Black Sea, the Baltic Sea and other Oceans throughout the war.
The only full scale confrontation of the war between British and Germans fleets took place on 31st May 1916 and came to be known as the Battle Jutland. Jutland was to be the World's largest ever naval battle, and proved catastrophic for both sides. The British lost three battle cruisers, three cruisers, eight destroyers and suffered 6,100 casualties while the Germans lost one battleship, one battle cruiser, four cruisers and five destroyers and 2,550 casualties. The outcome of Jutland came as a huge shock to the British Admiralty, as the British fleet had clearly outnumbered German forces (151 to 99). However, Jutland is surprisingly still seen as a victory as it established that Britain had command over the North Sea. Victory would be total. But there was to be no further battle. After four years of naval stalemate, Germany delivered her warships into British hands, without a shot being fired. The date was 21 November 1918. World War One had ended on land 10 days earlier, but this was to be the decisive day of victory at sea. During the course of the war the Royal Navy lost; 2 dreadnoughts, 3 battle cruisers, 11 battleships, 25 cruisers, 54 submarines, 64 destroyers 10 torpedo boats and suffered total casualties of 34,642 dead and 4,510 wounded. Britain's Merchant Navy also lost 3,305 merchant ships with a total of 17,000 lives.
Naval Blockades
The British, with their overwhelming sea power, established a naval blockade of Germany immediately on the outbreak of war in August 1914. A blockade was a useful weapon to undermine German trade and keep the powerful German Navy in port. The British blockade lasted until July 1919 and was unusually restrictive in that even foodstuffs were considered "contraband of war". The Northern Patrol and Dover Patrol closed off access to the North Sea and the English Channel respectively.
The Germans regarded this as a blatant attempt to starve the German people into submission and retaliated with unrestrictive submarine warfare on Allied shipping.The blockade also had a detrimental effect on the U.S. economy which wished to profit from wartime trade with both sides, Eventually, Germany′s submarine campaign and the subsequent sinking of the RMS Lusitania and other civilian vessels with Americans on board, turned U.S. opinion against Germany.
It is widely accepted that the British Naval blockade made a large contribution to the outcome of the war. By 1915, Germany′s imports had fallen by 55% from their prewar levels and the exports were 53% of what they were in 1914. Apart from leading to shortages in vital raw materials such as coal and non-ferrous metals, the blockade also deprived Germany of supplies of fertiliser that were vital to agriculture. This latter led to staples, such as grain, potatoes, meat, and dairy products becoming very scarce. These food shortages caused looting and riots, not only in Germany, but also in Vienna and Budapest. The food shortages got so bad that Austria-Hungary hijacked ships on the Danube that were meant to deliver food to Germany. It is estimated that between 424,000 to 763,000 civilians died of malnutrition and disease deaths due to the blockade of Germany. The restrictions on food imports were not lifted until the 12th July 1919 when Germany signed the Treaty of Versailles.
Casualties
Over 1.1 million British and Commonwealth troops died, during World War 1. They are buried in over 23,300 cemeteries in more than 150 countries. Their graves are maintained by the Commonwealth War Graves Commission (CWGC), which replaces 6000 of the 1.1 million individual headstones every year.
Six unexpected WW1 Battlefields http://www.bbc.co.uk/news/magazine-30098000
Thank You to Heather Jones, London School of Economics for her excellent BBC News article, dated 29 June 2014 on the Global war -WW1:Was it really the first World War?. Also Wikipedia for the Campaign information and Getty Images for the photographs. Reproduced here.
Credits and Acknowledgements
A wide variety of sources have been used to compile the information presented on this website. Not all material is original and due credit is given to all original sources. Where possible they are listed below:
Wikipedia
Imperial War Museum
Bing images
Hull Daily Mail
Wreck Site - http://wrecksite.eu/Wrecksite.aspx
Ancestry.co.uk
The Mann Index collections - Hull History Centre
Hull Areas the Old Years Face Book
Hull Webs History of Hull
Alex Gill - Lost Trawlers of Hull - http://hullwebs.co.uk/content/l-20c/conflict/ww1/trawlers/intro.htm
Hull Pals Memorial - Face Book, - Joe Solo's Pal stories.
Soldiers & Officers Died in the Great War 1914-18
Commonwealth War Graves Commission
The Great War Archives - Oxford University

Europeana 1914-18
The Long, Long Trail
Chris Smith - Thornwood Services Ltd
Sutton and Warne Museum
Glen Hopkins for his work on the NER in WW1
WW1 Lives Project, Beverley - http://www.briefreport.co.uk/news/volunteers-needed-for-ww1-lives-project-2525178.html
How did the war start?
What caused the First World War?
The causes of the 1914 -18 War are long and complex, with the origins starting decades before. In 1871 the balance of power in Europe shifted to Germany, with their victory over France in the Franco-Prussian War. In 1882, Germany consolidated its' position by forming a 'Triple Alliance' between themselves, the Austria-Hungary empire and Italy. This Alliance encouraged mutual co-operation and agreed to help each other if attacked by France or Russia. In 1894, France and Russia formed an alliance to constrain this threat on their borders. Old rivalries and new ambitions created increasing tensions between these imperial powers as they competed for land, resources and trade markets. Nationalism and xenophobia grew throughout Europe over these decades, often fuelled by jingoistic propaganda, which created a widespread facination for war.
Worried about German military and industrial expansion, Britain began to build bridges with old enemies. Britain signed an 'Entente Cordial', or friendly understanding with France in 1904, and a 'Triple Entente' with France and Russia in 1907, agreeing mutual support if attacked. By 1907, Europe had split into two main camps. These were Germany, Austria-Hungary and Italy on one side, and France, Russia and Britain on the other. As Nations tried to expand, they increased the size of their armies and navies. This was typified by the 'arms race' for naval superiority between Britain and Germany from 1898 onwards. A series of colonial disputes between these rivals also added to international tensions, most notably with the 'Tangiers Incident' in 1905 and the Agadir Crises of 1911. While these alliances offered some National security, they also ran the risk of dragging other countries into conflict should one nation go to war. This weakness was exposed during the Balkan wars. After the 1912 Balkan War, Serbia, with Russian support, emerged the strongest of the Balkan Nations, and Austria and Hungary felt threatened. When the Heir to the Austrian Hungary Empire was assassinated in Sebia, and Austria inavded Serbia on 28th June 1914, the series of alliances quickly triggered Empires into a global conflict. Austria with German support, attacked Serbia. Russia supported Serbia and attacked Austria Hungary. Germany backed Austria Hungary and declared war on Russia and their ally France. Britain bound by their Entente, joined France and Russia, and when Germany breached the 1839 Treaty of London, by invading Belgium, Britain declared war. Internal problems within each nation also encouraged war.
Germany, which was a relatively new nation formed in 1871, was technologically and industrially advanced, and had some progressive social policies. However, it was strongly shaped by Kaiser Wilhelm II, a militaristic leader, whose keeness to expand the German empire, was a destabilising force in Europe. Germany could have withdrawn support for Austria when they attacked Serbia, accepted peace negotiations in July and withdrawn from Belgium when offered an ultimatum by Britain, but Germany refused to back down. Germany declared war on Russia and France, on 1st August 1914
Austria and Hungary was a 'dual' monachy, formed by a merger of the two older states in 1867. While the Austrians were dominant, the empire housed many different ethnic and language groups, which created many political and ethnic divisions. It's Government, led by Emperor Franz Josef I, was autocratic and dominated by aristocrats and militarists. It started the war by invading Serbia. Austria and Hungary declared war on Russia, on the 6th August 1914.
Russia, the largest of the European nations was poor and underdeveloped. Eighty percent of its population were peasants, illiterate, uneducated and still working the land. In need of modernisation, Russia's government and social structure was almost medieval. Their Tsar, Nicholas II, ruled with absolute power and was resistent to change. Keen to expand his empire in the East and humiliated by Japan in the Pacific, Nicholas II, supported Serbia, and mobilised the Russian army.
France, still bitter from their defeat to Germany in the 1870's, was keen for revenge. During the Franco Prussian war, France suffered catastrophic defeats at Metz and Sedan, and saw Paris besieged and occupied. France had to pay a 5 billion franc, 'war indemnity' to Germany and cede the Alsace-Lorraine region to Germany, in order to end the war. Plagued by class divisions and poverty, there was dissatisfaction in France over working conditions and political representation. Their President of the French Republic, was Raymond Ponicare, a conservative, nationalist, who antagonised Germany with outspoken criticism.
Britain, although a relatively stable super power, suffered from domestic strife. Britain also had strained relations with Germany. This Anglo German emnity, probably began 50 years before the war, when Britain supported Denmark, against the German reunification of Schleswig-Holstein in 1863. Britain had also sold weapons to France against Germany, during the Franco Prussian war. Germany had bitterly opposed Britain during the Boer Wars and the German Naval Bill of 1908 had directly challenged Britain's naval supremacy, accelerating a naval arms race between the two countries. Newspapers, propaganda and cartoons of the time, fostered prejudice, alarm and mutual resentment. War against Germany would prove a distraction from Britain's internal problems at home. In Britain, there was widespread and growing industrial conflict, known as the 'Great Unrest 1910-14', a militant Suffragette movement and demands for Irish, Scottish and Welsh Home Rule. Britain's Liberal Prime Minister, Herbert Asquith, opposed war, but was hesitant and unable to take decisive action to avoid war. When war came, it was seen by many, as a means of uniting their respective nations away from such domestic tensions.
All the Imperial powers had been building up their armies for some time and were confident of victory. Europe was becoming fascinated by war, fuelled by nationalism, empire building and jingoistic newspapers. Europe had not fought a war for 30 years and few understood the killing powers of modern weapons, such as heavy artillery and machine guns. It seems unthinkable today, that countries would embark so easily into a European war, but at the time, Imperial Nations saw war as a legitimate instrument of policy to improve a Nation's status. In each country the decision to enter the war was made by only a handful of individuals - monarchs, ministers, military people, party leaders ambassadors and others, each with distinct and separate agendas, sharing a culture of paranoia and mistrust. The eccentricities of these Imperial rulers and European leaders at the time, meant no nation was prepared to back down, and they 'sleep walked' into war, blind to the reality of the horror they were about to bring to the world. Similarly, the majority of people they ruled followed obediently. Unlike today, there were no news channels, television or social media, to hold the powerful to account. In fact there was little democracy. Most men and no women were allowed to vote. Most people had limited education and left school because they needed to work. They were largely deferential and subservient to their rulers wishes. When war came, populations willingly and enthusiatically joined in their country's war effort, oblivious to the dangers that faced them.
Tsar Nicolas II of Russia Emperor Franz Josef I Raymond Ponicare Kaiser Wilhelm II Herbert Asquith
Whether the First World War was inevitable, or avoidable, or could have been postponed, is the subject of much debate. The general view emerging is that Britain was right to intervene against a German invasion of neutral Belgium. By doing so, Britain preserved its International reputation. Also if Britain had waited for Germany to overun France and the coastal ports, Britain would find fighting a future war with Germany, without its Allies on the continent, much more difficult.
When did the War Start?
The First World War began in the Bosnian capital of Sarajevo on 28 June 1914. This is when a sixteen year old, Bosnian Serb, named Gavrilo Princip, shot and murdered the Arch Duke, Franz Ferdinand and his wife in the streets of Sarajevo.
(Archduke Franz Ferdinand of Austria and his wife descend the steps of the City Hall, Sarajevo to their motor car, a few moments before their assassination.)
Franz Ferdinand was the heir to the Austro-Hungarian dual monarchy, and had been visiting Serbia during a Public holiday. Gavrilio Princep angered by Austria/Hungary's occupation of Bosnia in 1912, fanatically believed that the assassination of the Austrian Heir would deter Austria away from Serbia and preserve Bosnian independence. It had the opposite affect. In retaliation, Austria and Hungary, supported by their German allies invaded Serbia on 28th July 1914, causing a number of atrocities on its way. Serbia desperate for help turned to Russia their Slavic neighbour, for support. Czar Nicholas the Russian Emperor had the opportunity to leave Serbia to its fate, but not wanting to lose face to his cousin Kaiser Wilhelm in Germany decided to support Serbia.
As Russian armies mobilized, there was a brief opportunity for Germany to prevent the war, by withdrawing its support for Austria. However, Germany ruled by a power obsessed Kaiser, with militaristic ambitions, gambled on winning the war in a few months. Germany declared war on Russia on 1st August 1914, and to avoid fighting a war on two fronts, quickly declared war on Russia's ally, France. Germany had long planned for this quick and massive invasion of France. This was the 'Schlieffen Plan', conceived by the German military, between,1890 -1905, to envelop French forces, with a massive 'right hook' via Belgium. The Plan was to capture Paris in 42 days, crush France first and then return to deal with the Russian army later.
There were however difficulties. The French frontier was only 150 miles long and too narrow for Germany to manoeuver it huge army of 700,000 men and another 1.3 million Reserves. The border was also well defended and contained some natural barriers, such as the Ardennes forest, which could hold up a German advance. Faced with such obstacles, Germany went round them and attacked Luxembourg on 2 August, and on 3 August declared war on France. On 4 August, after Belgium refused to permit German troops to cross its borders into France, Germany declared war on Belgium as well. Germany could not afford any delays to the 42 day timetable of the Schlieffen Plan' and Belgium resistence would be crushed. By invading Belgium, Germany broke the 'Treaty of London', that it had signed in 1839, to guarantee Belgium's Neutrality. Belgium appealed to Britain to uphold International law. Britain was internationally bound to maintain its credibility. Compelled to prevent a militaristic Germany occupying Belgium land and Ports, so close to English shores, Britain initially gave Germany an ultimatum to withdraw from Belgium. This was yet another opportunity for Germany to avoid War. However, when Germany ignored this ultimatum, Britain had little choice but to declare war on Germany on 4 August 1914.
At first, Belgium troops with the aid of the British Expeditionary Force, bravely delayed the German advance for 19 days. This effectively ended the 42 day, timetable for the 'Schleiffen Plan'. By the end of September 1914, Von Moltke, the German Army Chief, had suffered a nervous break down. He predicted to the Kaiser that Germany would lose the war and was relieved of his Command. It would take another 4 years before Von Moltke's prediction was realised.Therefore from the assassination of Archduke Ferdinand, in Serbia, on 28th June 1914, It had taken just 37 days for Europe to slide into a raging global war. Ironically, Austria which had initiated the First World War was the last country to declare war on Russia! By the end of 1914, the war had already claimed over a million casualties, of which 300,000 French, 30,000, British and 150,000 Germans had been killed. This was just the first 5 months of war on the Western Front alone.
There had not been a war in Europe for decades. Nations were over confident that their armies were superior and that war would be 'over by Christmas'. Destructive lessons of recent military conflicts, such as the American Civil War, the Russian/Japanese War of 1904-1905, and the recent Balkan Wars were ignored. These wars had demonstrated that machine guns, heavy artillery and strong defensive positions could cause huge casualties. Europe would soon realize the cost of modern warfare.
https://en.wikipedia.org/wiki/World_War_I_casualties
The Diplomacy of Declaring War - http://www.lawgazette.co.uk/analysis/comment-and-opinion/passports-please-diplomatically-declaring-war/5042209.article